Italy.
We wanted to go for our honeymoon. $$$$. Not.  We wanted to go for our 10th anniversary.  $$$$. Not.  15th anniversary? Not.
It was my dream to go to Italy.  it's was my heart's desire.
In the fall of 2014 I was at a point in my life…due to circumstances I won't go in to here or now… that I was ready to LOSE.MY.MIND.  I am not kidding, folks and I know I am not alone. I was hanging on by a string and that string broke and I was free falling.   I NEEDED to get away. Not a 3 day "girls weekend"… but AWAY.  FAR.  AWAY…for a while.  I was crumbling.  This mama needed respite from circumstances that had me to the point of near.non-functioning.  It was time to GO.
Low and behold…one of the kids homeschool programs was offering a mom's trip to ITALY.  I was reading it and thinking, "THIS.IS.IT".  this is my "away"…"hubby ain't going to go for it… can't afford it… he can't watch the kids for 2 weeks…" NOT. HAPPENING.  Ok, Mandy…send him the email anyway…just send it… so I did… and he said "GO"…"YOU NEED TO GO"… and the control freak in me said, "how… how can we afford it…you can't take off work to watch the kids"… and I threw every possible reason and doubt why it was not really possible.  And he said "go…we'll figure it out"… which, God love him… that really means…..  book the trip then YOU figure it out.  So I did.  and I recruited one of my besties to join me on this adventure to fulfill my dream.
May 31st, 2015 I said goodbye to my family and flew to Washington, DC to meet up with my friend.   She and I, after hugging and giggling like crazy since we hadn't seen each other in nearly 2 years, headed down to the Mall.  We wandered through the art museum acting like giggly teenage girls… we chatted the afternoon away, catching up on life.  My stress level had already dropped 50%.  Later that evening, we met up with about 15 other women I had never met that were also going on this adventure…who would soon be called friends… and at the time I couldn't even being to image to what extent that would come true!
Introductions, stories shared, commonalities and differences embraced… we woke up on June 1st and it was time to head to Rome.  Of course the times you are most excited for a trip, the biggest travel delays occur and that was certainly the case as we sat on the run way hour after hour after hour due to storms.  Once we were air-born the giggling, nonsense and talking continued with each other and our new sisters.  Some of us were a bit more rowdy than others…you know the kind that have the gift to sleep ANYWHERE…curse them..… while I was part of the group that did not possess that gift…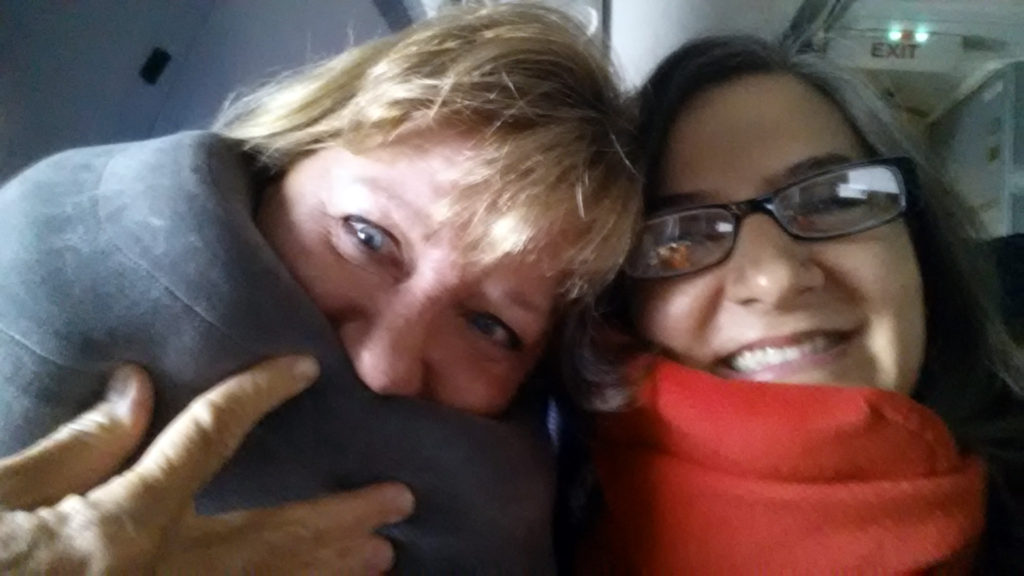 but it gave us more time to get to know one another and, ultimately, probably annoy those that thought sleeping on a red eye flight was a good thing to do!   We flew through the night and finally landed in Rome, exhausted and wired and about 4 hours behind schedule.  Stepping out on to the street was like we had just been dropped in to a movie set.   I was HERE… I was in ITALY…someone pinch me!!!
We navigated the transit system to our hostel… now, let me make something clear… I don't need the Ritz Carlton.. but Hampton Inn is my speed….  I have never stayed in a hostel, never wanted to stay in a hostel and wasn't too excited about staying here.. AT…ALL…  not to mention there were 3-5 peeps in a room…  of course… I was in the room with 5.  Deep breath….let it go…  it will be ok…    we did a quick stop there and headed downstairs so that everyone could experience their first taste of Italy…  Cappuccino and a pastry….   One bite of a chocolate croissant is all it took (for this gluten restricted traveler) and I officially realized I was in heaven.
We hit the ground running… ok, not running, but our leader kept a quick pace… there was no way to see all there was to see if we didn't.  You know that plan I had to walk a little more each day while I was home so I would be conditioned for this adventure… well… it.did.not.happen!!!!!!!  It was officially boot camp!
While I could have done without visiting the Vatican City, spending hours at the Vatican Museum and wandering through St. Peter's Basilica I must admit it was beautiful, and the traditions run deep.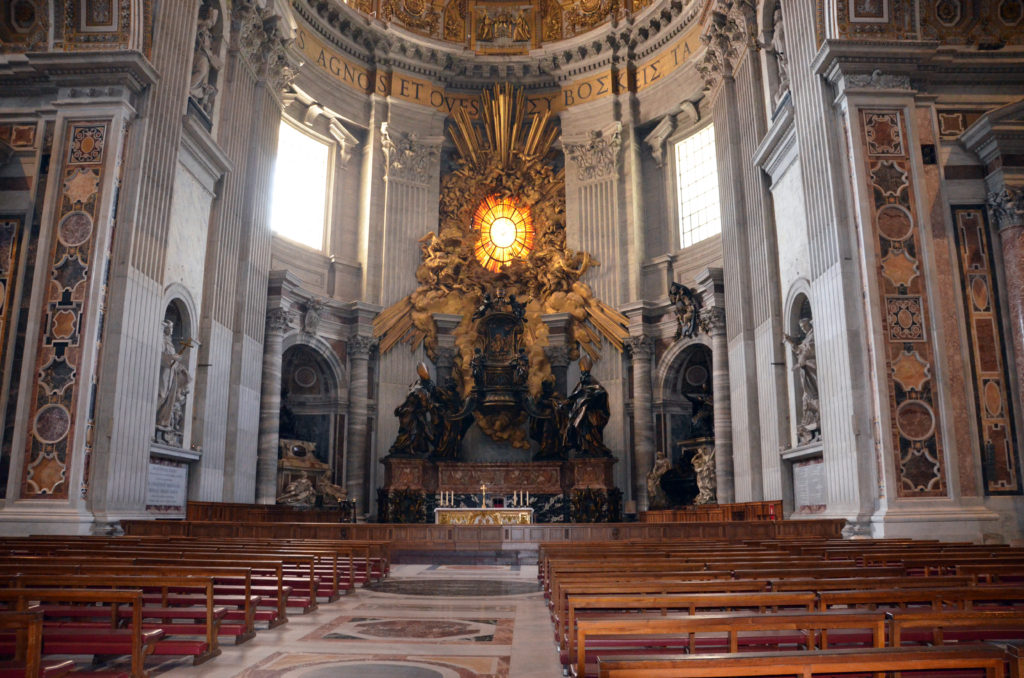 The history is interesting to me (to some extent) but more so than anything else that struck me, I couldn't help but be in awe of the detail of the architecture, the paintings & sculptures…it's hard to wrap your mind around it all being done by hand.  Ceilings painted while artists lay on the back on scaffolding's.  Just close your eyes and picture that.
The highlight of Vatican city for me was my first bite of REAL PIZZA.  The.real.deal.  similar but so different. The taste can't be described.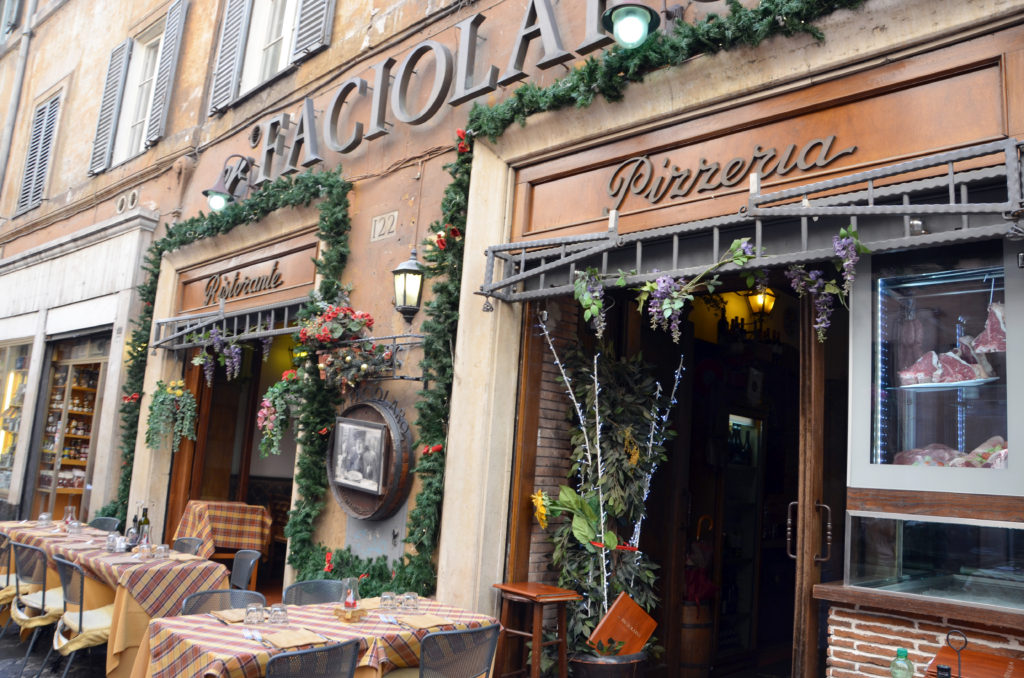 checked off the bucket list…..
what the heck….let's check another off.  I've got one word for you…
Gelato. do you all hear angels singing?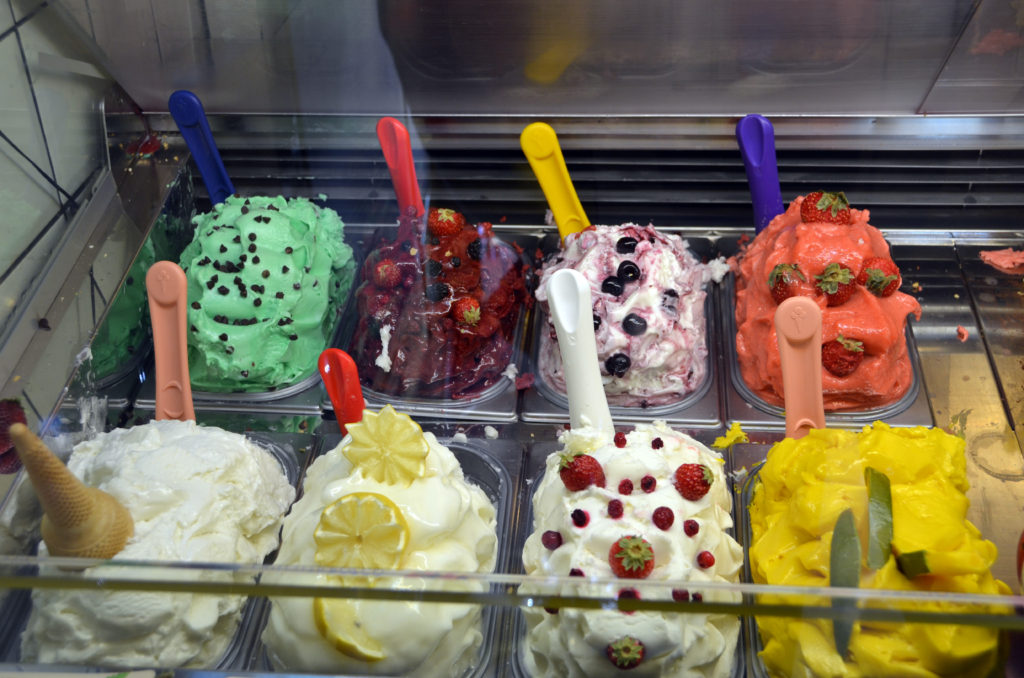 As we made our way through the maze of the transit system we came to our next stop… as we walked up the stairs and out of the station and on to the street…there in front of us stood one of the most amazing structures in the world… the Roman Colosseum.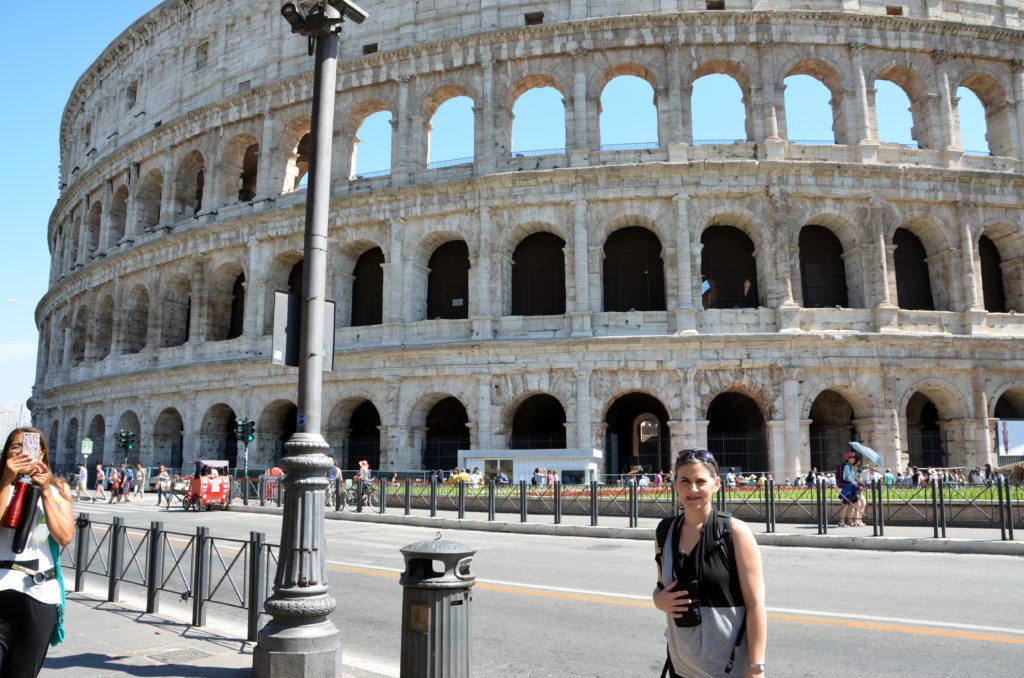 We've all seen it in pictures.  It's a grand piece of work…but when you are standing inside this massive arena and you look around and just try to not only soak in how it was built, but even more so, what happened in this place.  It was entertainment and that was hard to swallow.  The blood shed of animals.  The loss of human life. All for entertainment. Can you close your eyes and picture the people, how they were dressed, the cheering for the bloodshed, the smell of blood & flesh….it was all described to us.   The system of elevators that brought the animals to the main floor. The maze of confinement areas for the animals under the main arena….it's unreal…really…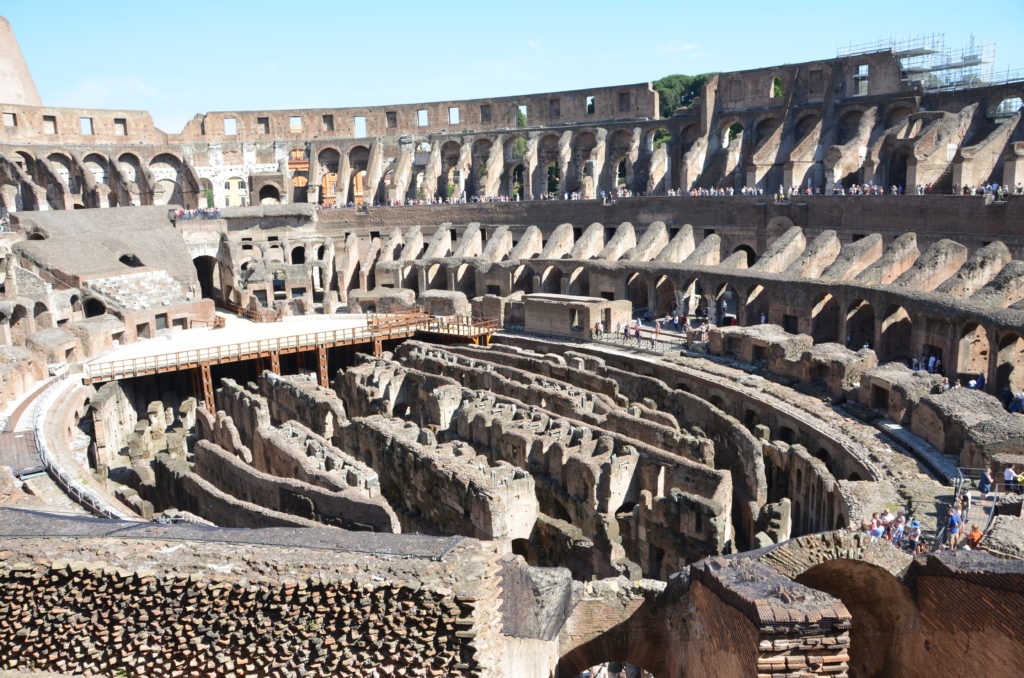 As we left from the Colosseum and made our way swiftly through the streets.. trying to soak up what was behind us, next to us and ahead of us all at the same time…my mind could not take it all in at once and my camera couldn't snap fast enough..,it's a bit hard to walk at such a pace and take pictures at the same time.
Within a short time we were in the midst of the Ruins…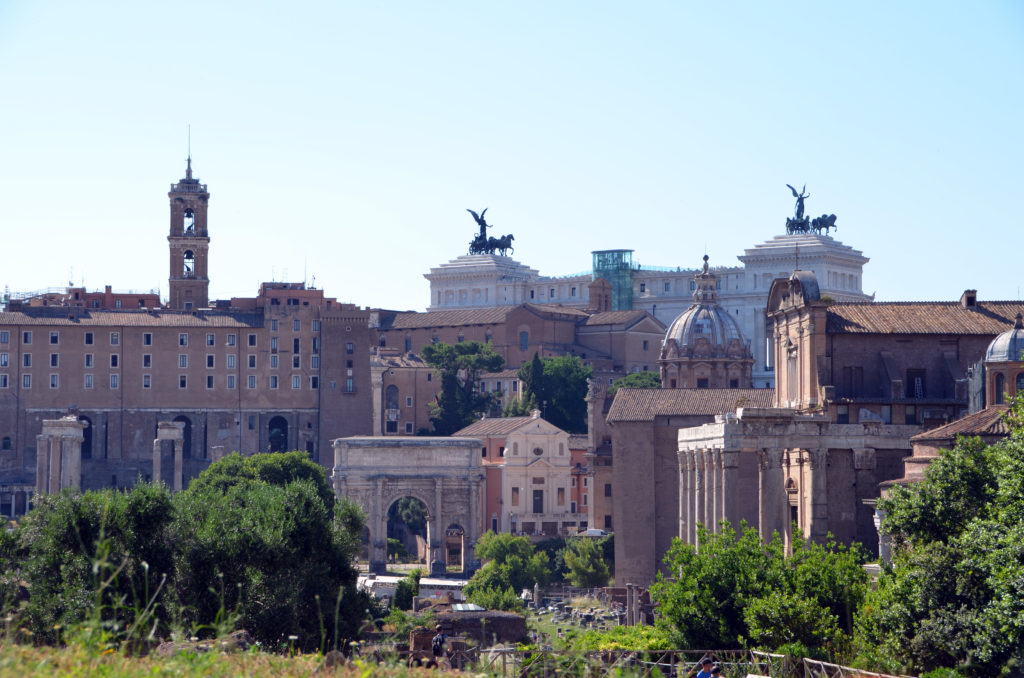 everywhere you look there were partial buildings, nothing but columns standing, but the fact is, they are still standing and it's a wonder to see. They were massive.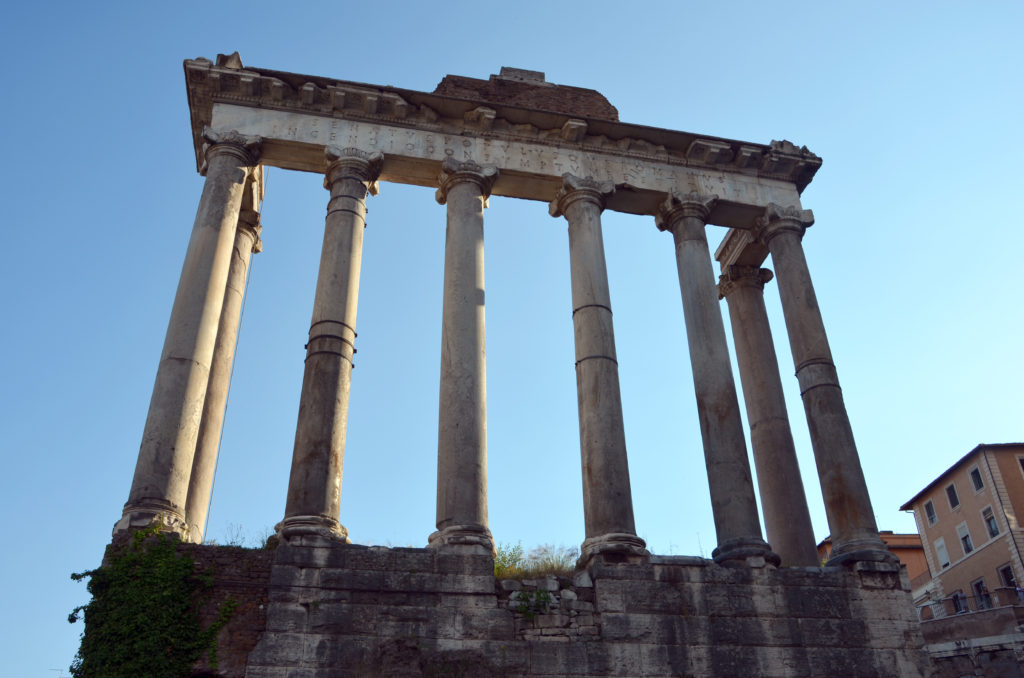 The intricate carvings, the ornateness of the buildings.  Small pieces lie in piles like garbage on the street.  Even those little pieces are carved in detail. It was like being in a search & find book and my eyes were scanning for flowers…carved flowers…they were amazing to me.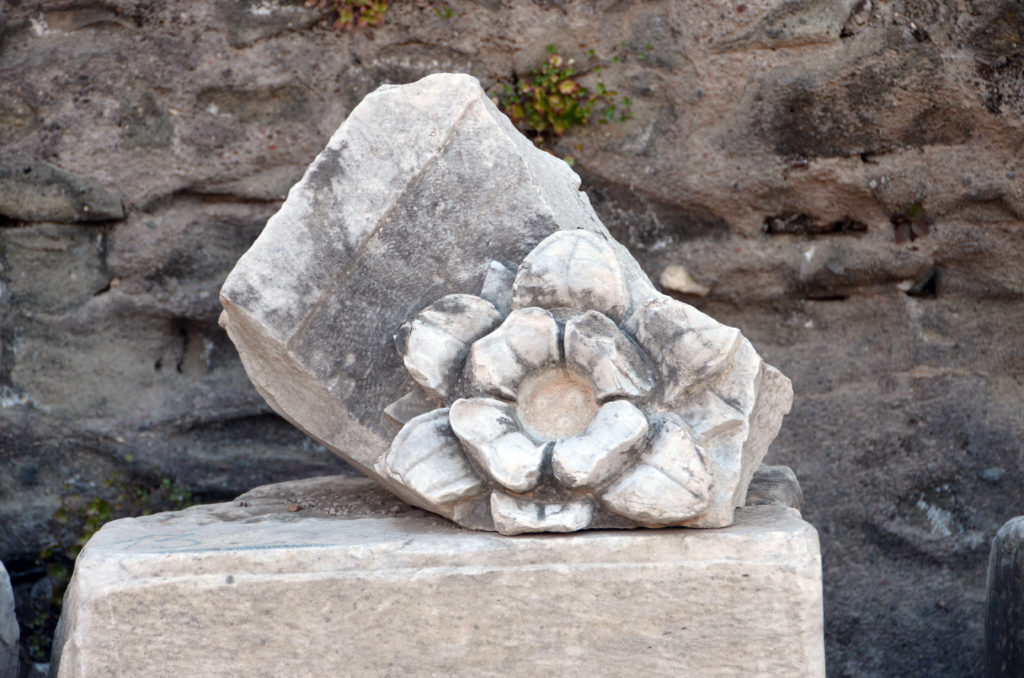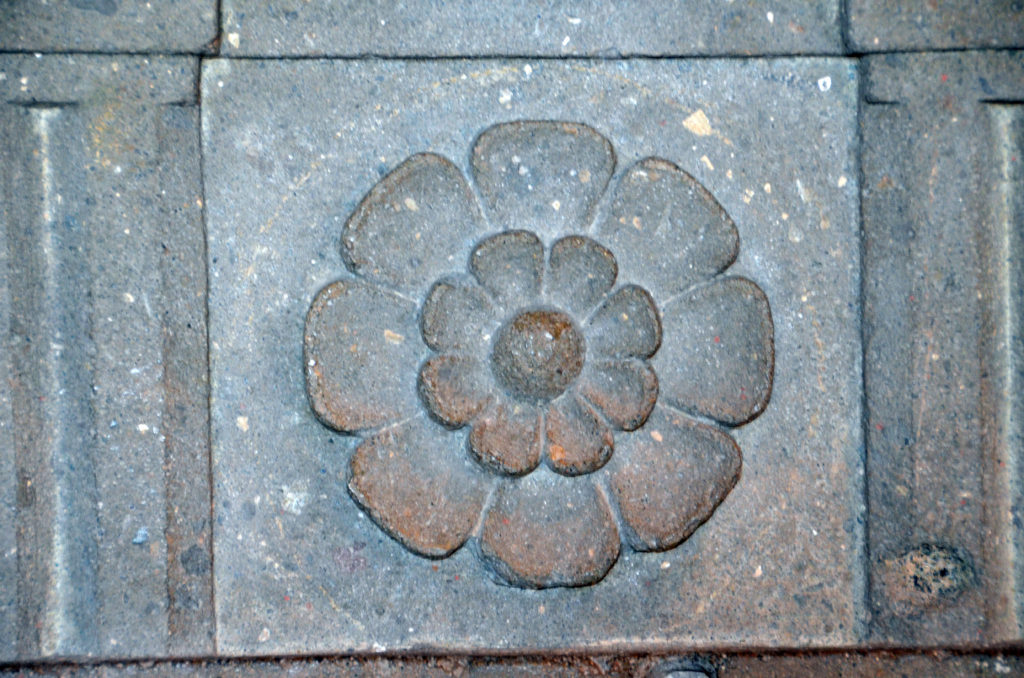 As our tour day in Rome was coming to a close we walked faster and faster to try to make one last stop before it closed… the prison where St. Peter and St. Paul were held.  I seriously would have been heartbroken if we didn't make it there.  It was what I most wanted to see in Rome.  It's tucked away on a side street with a small sign, hidden from site and not heavily visited.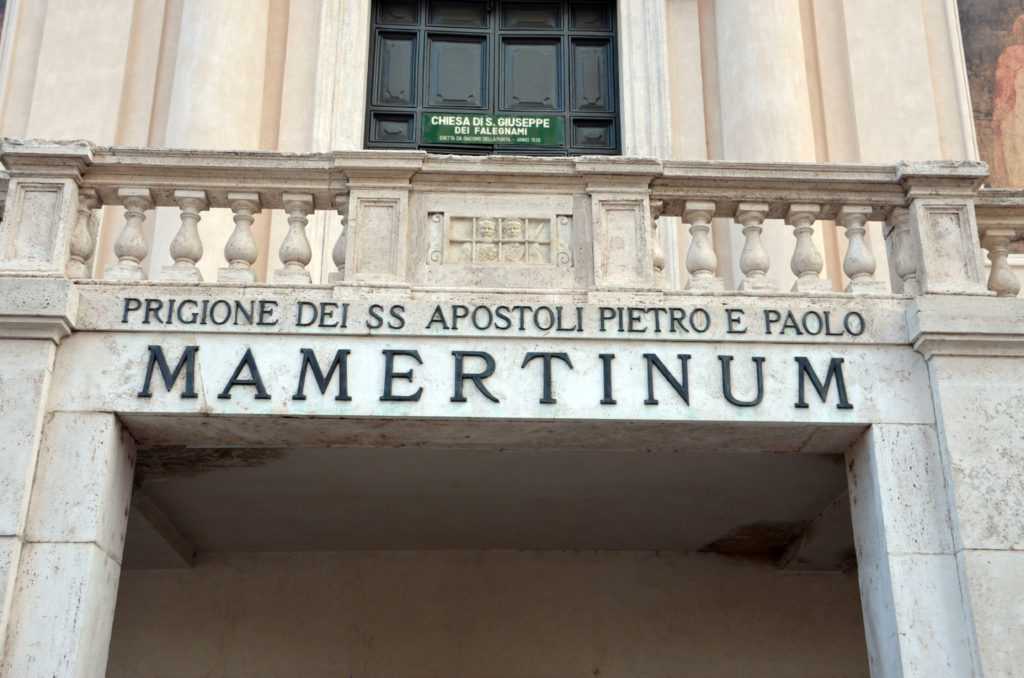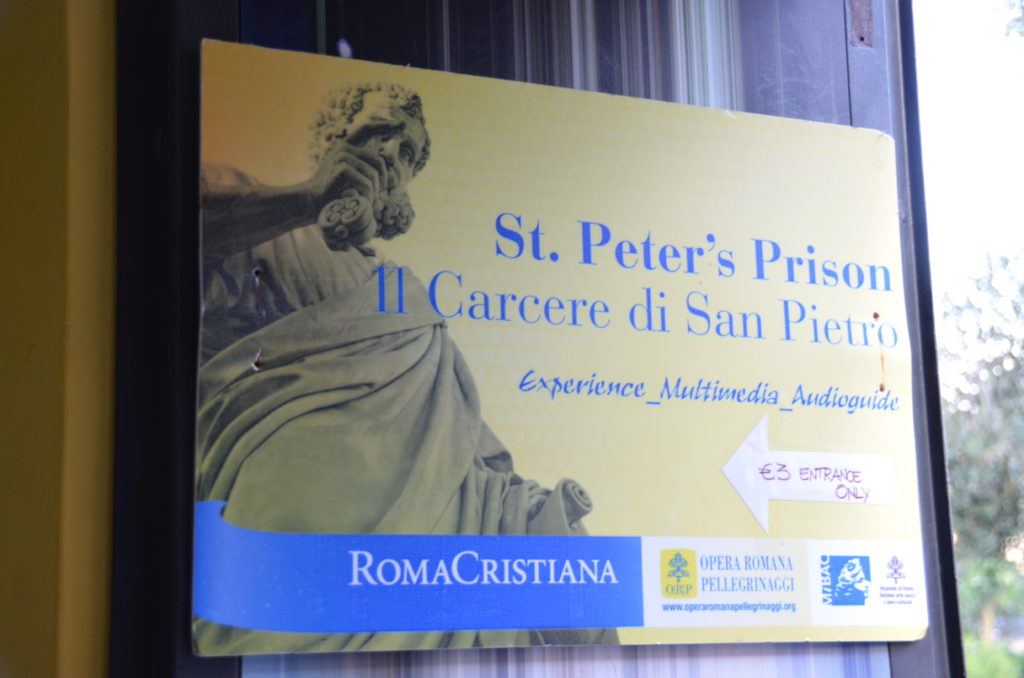 We made it… with 20 minutes until closing.  As we walked down the narrow, dark staircase we made our way in to the prison cell.  Small. Cold. Damp. Stone. Chains hanging from the wall.  It was here that Paul wrote 2 Timothy.  It was here in the most dire of conditions and circumstances with rats, dead bodies, human feces, and the moaning of dying and hungry humans that Paul wrote one of the greatest books of the bible while chained to a wall in these decrepit conditions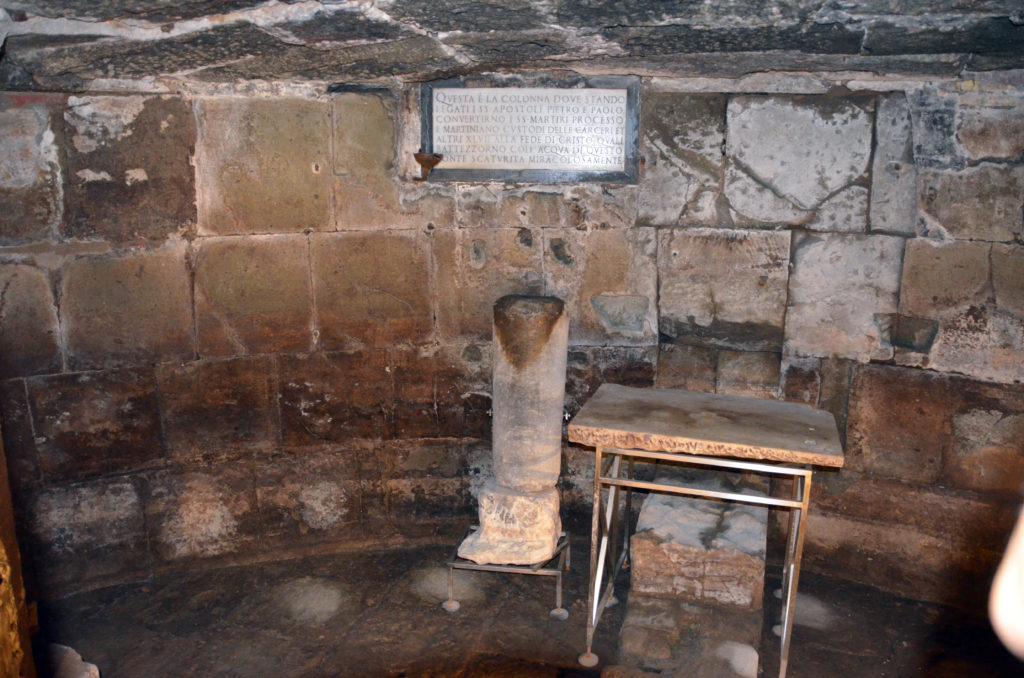 As we stood there in this tight space…all our bodies squished together, our leader took out her bible and read 2 Timothy out loud.  Folks, it was a supernatural experience.  The hair stood up on my arms, chills down my spine, tears running down my cheek.  It was so impactful on me.  2 Timothy 4:6 Paul writes as his time in this world is coming to an end  "For I am already being poured out like a drink offering, and the time has come for my departure.  I have fought the good fight, I have finished the race, I have kept the faith.  Now there is in store for me the crown of righteousness, which the Lord, the righteous Judge, will award to me on that day- and not only to me, but also to all who have longed for his appearing". 
Amen
And then there was Rome at night…..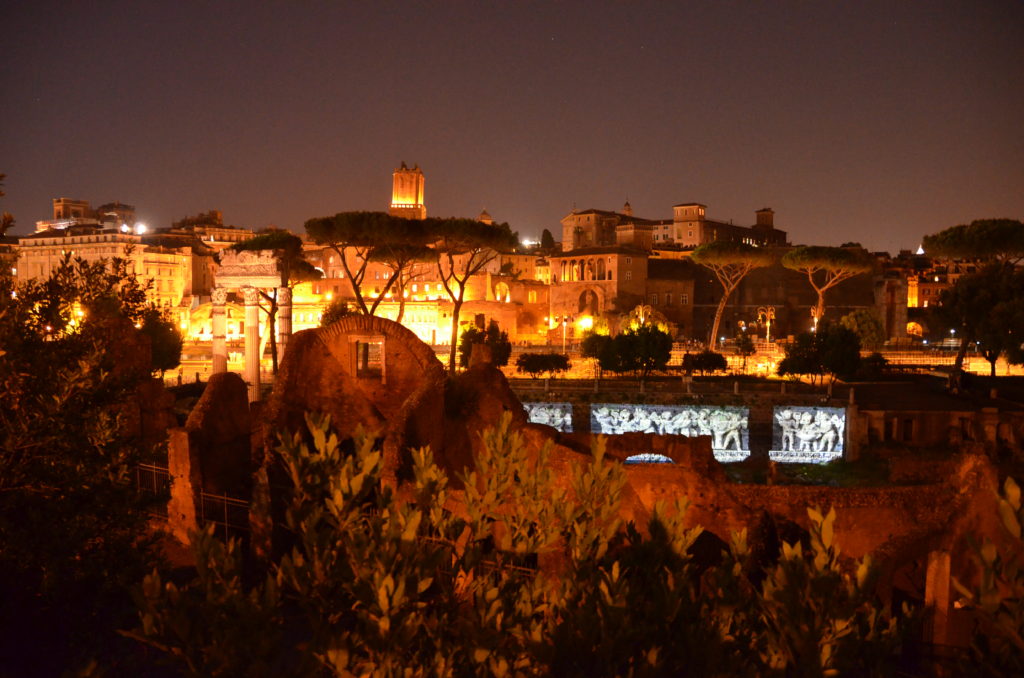 When we left Rome we traveled by train across Italy to arrive in Francavilla, I small seaside town on the Adriatic Sea.  We stayed in a small mom & pop resort; owned by a local family.  Authentic Italian family.  The real deal.  Papa in the kitchen.. a splash of wine in the sauce, a sip of wine in his mouth, just like my great aunts & uncles did… I remember it like it was yesterday, barely able to see over the counter tops, watching them cook…rolling out ravioli on a tiny little table…oh how spoiled are we with the grand kitchens we have adorned with granite counter tops and islands big enough to sleep on.  This town has very few English speaking residents.  We are immersed in the Italian culture…deeply immersed.  So cool.  We unpack, stretch our legs and walk to the water and it is a site to see….and it just doesn't seem real.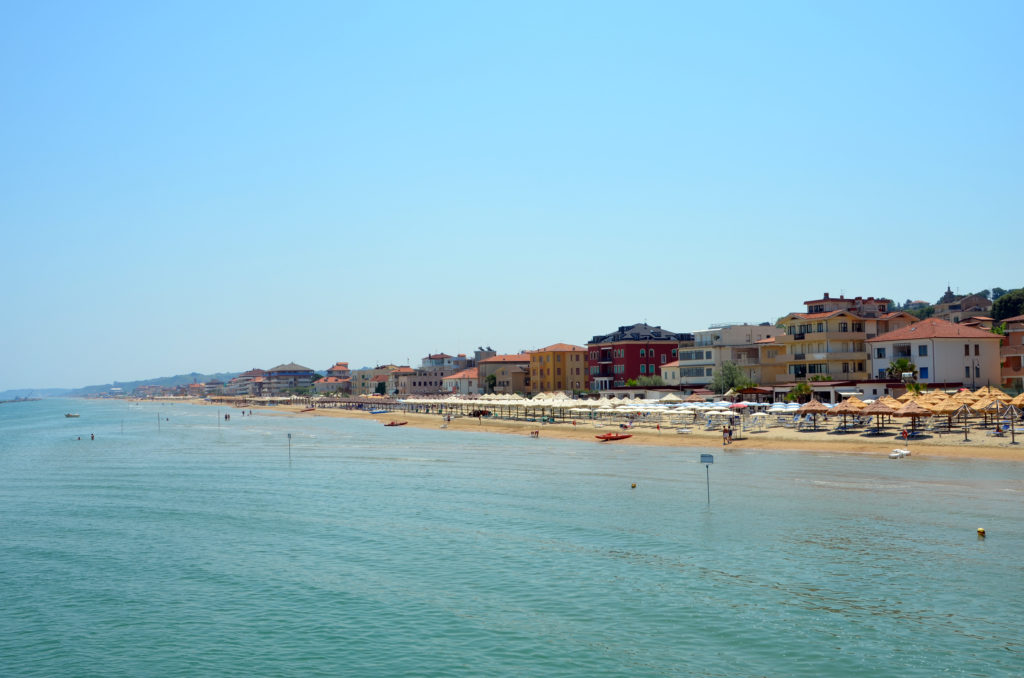 On to wander the streets. Quaint shops & eateries in this sleepy little town during the off season time.  We meander through the aisles of the local supermarket wishing of course that we could read Italian, mouthwatering at the bakery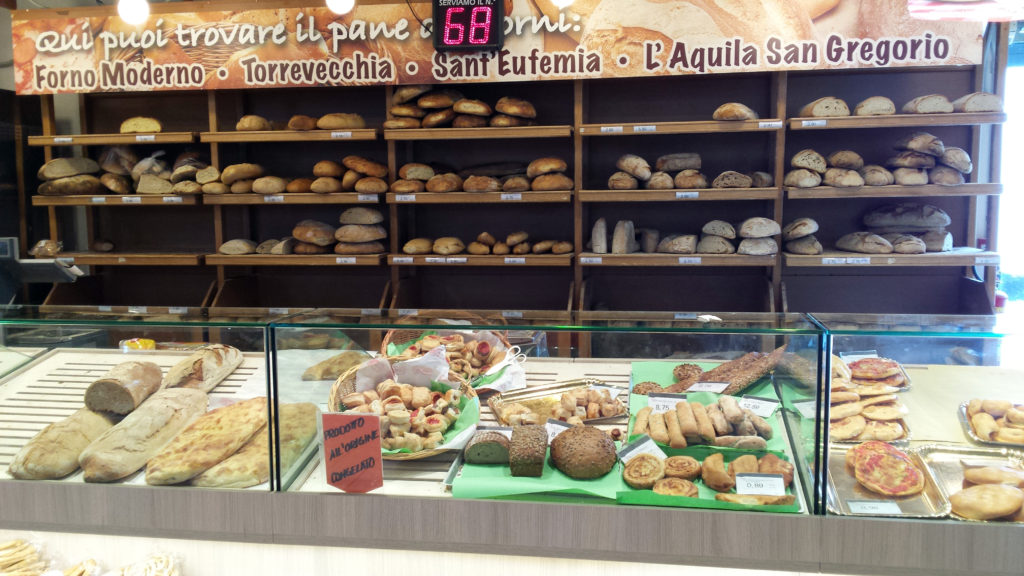 and meats…. salami, pancetta, prosciutto, sopressata …..  I'll take one of each please!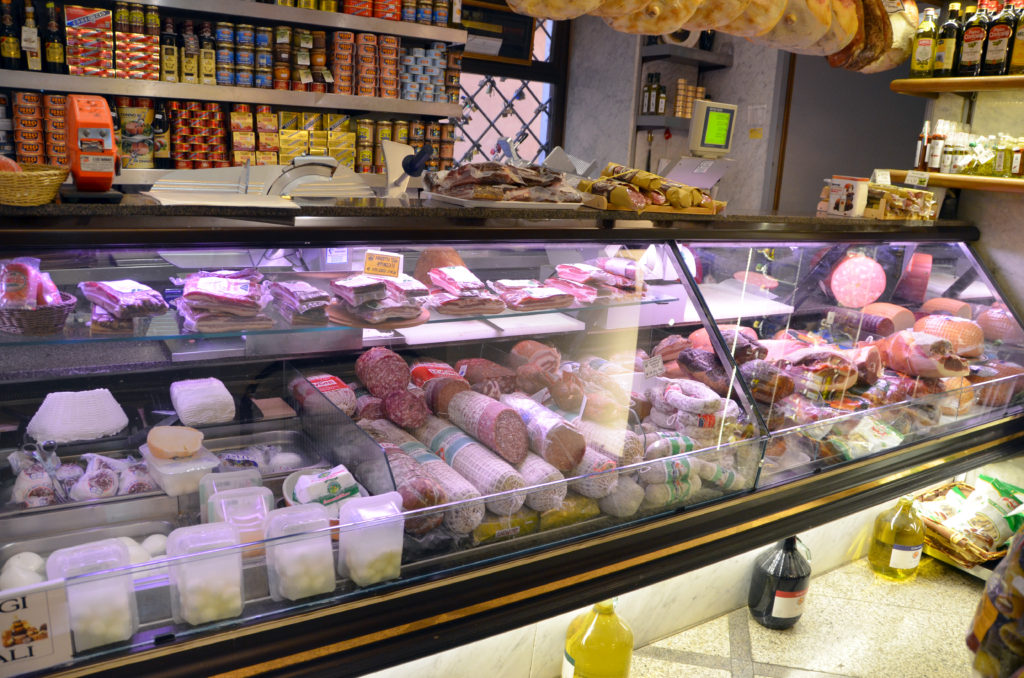 Pulling our chairs up to the dinner table each night was a treat that can't be described. A party for my taste buds.  I close my eyes and savor every.last.bite.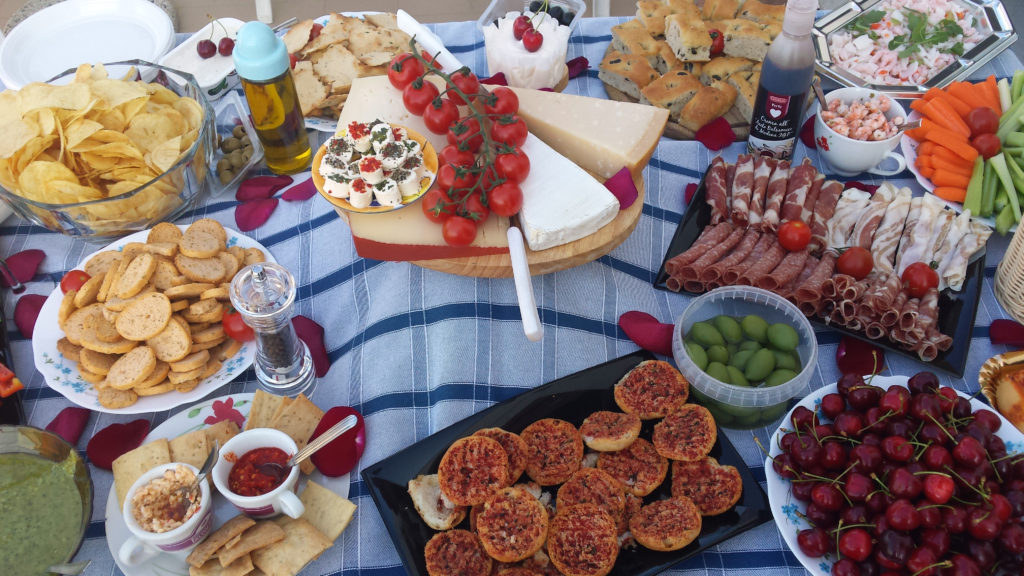 Pasta so fresh. The sauce is a flavor explosion. Piles of Italian bread.  Red wine (of course!).  The food just keeps coming and I am again reminded of my elderly relatives and how they would pinch our cheeks and continue to put food in front of us.  I anticipated gaining some weight on this trip but it quickly became more apparent that it was going to be more than what I had thought.
During our time in Francavilla, we went on excursions just about every day.  One of those day trips was to a winery.  Now I am not one to indulge very often nor have I ever found the "how wine is made" tour anything worth my time; but standing among the vines, hearing this man speak with so much passion, the tradition wrapped in this multi-generational family business… it was really cool to hear.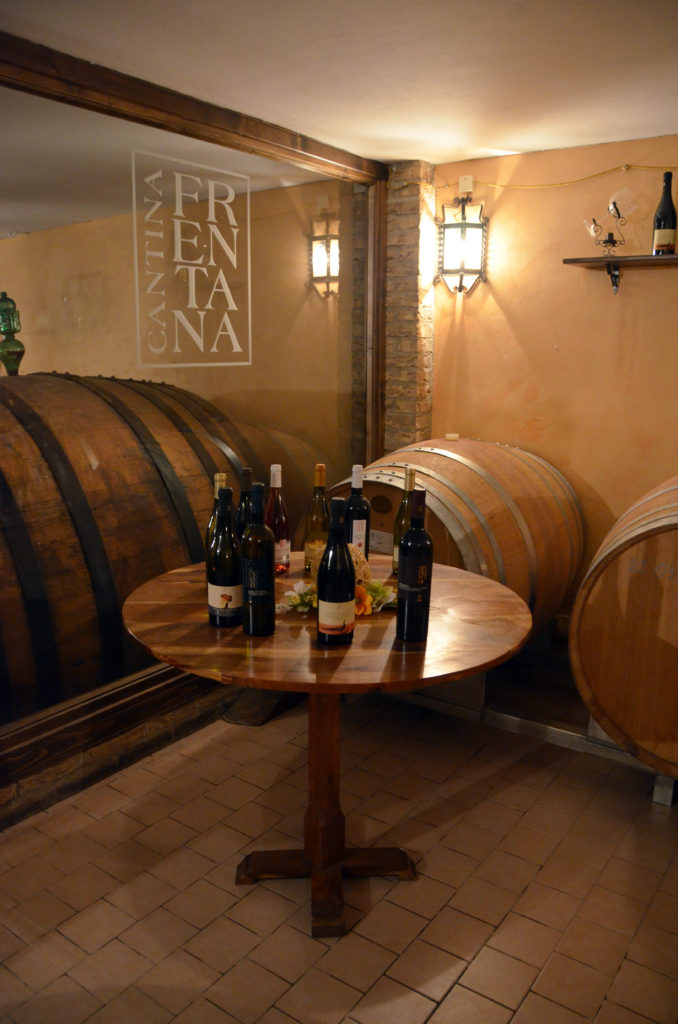 When the tour was over we climbed up in to the tower which looked pretty much like a light house and from up there you could see forever…standing out on the balcony, rolling hills of vineyard…beautiful shades of green, I can barely take it all in…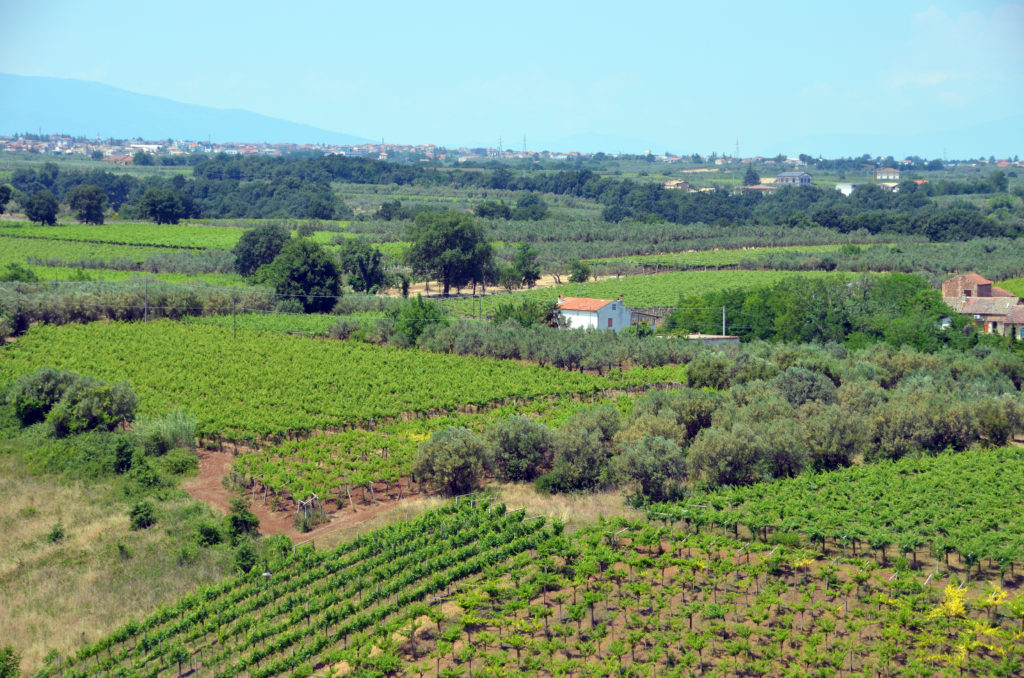 lots of wine to taste, lots of chit chat…. An unforgettable experience that suddenly got even better!!!!!   As we walked down the spiral staircase back in to the tasting room they had set up lunch for us that was fit for a king.  Each seat had a platter of prosciutto, pancetta and other Italian meats, cheeses and breads…displayed beautifully, of course… Oh my, oh my…oh how thankful I was to have such a treat.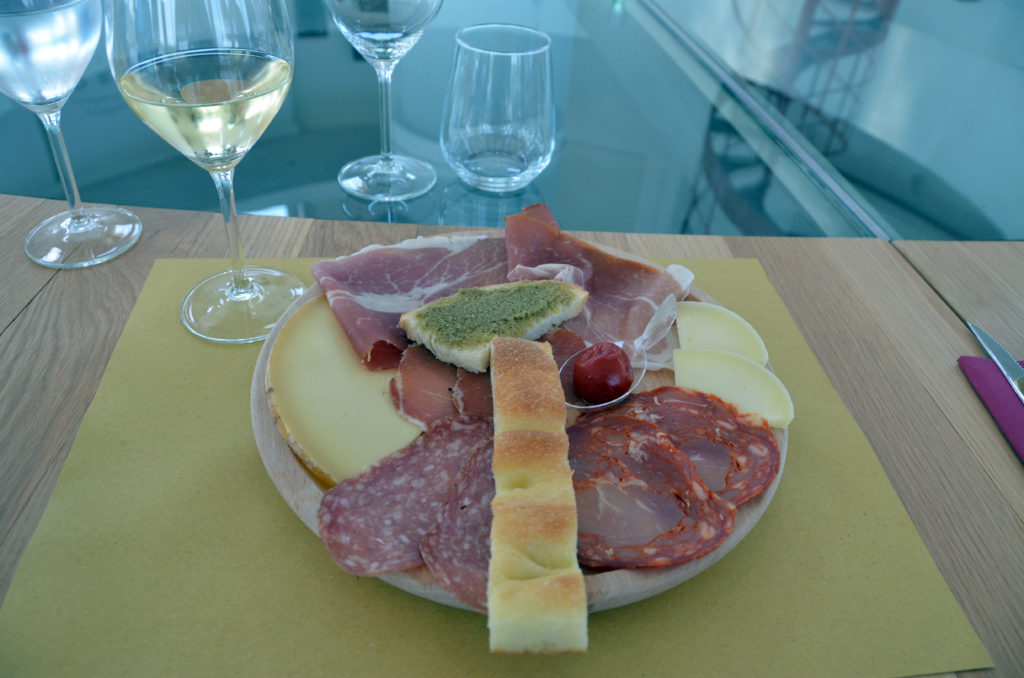 Pompeii was our next adventure… and it was a city I knew little about.  I quickly learned the history and, wow, it was "enlightening".  While wandering the ruins of this ancient city, destroyed by a volcanic eruption, completely in awe of how these cities were built by hand, watching archaeologists at work uncovering parts yet untouched and restoring other parts,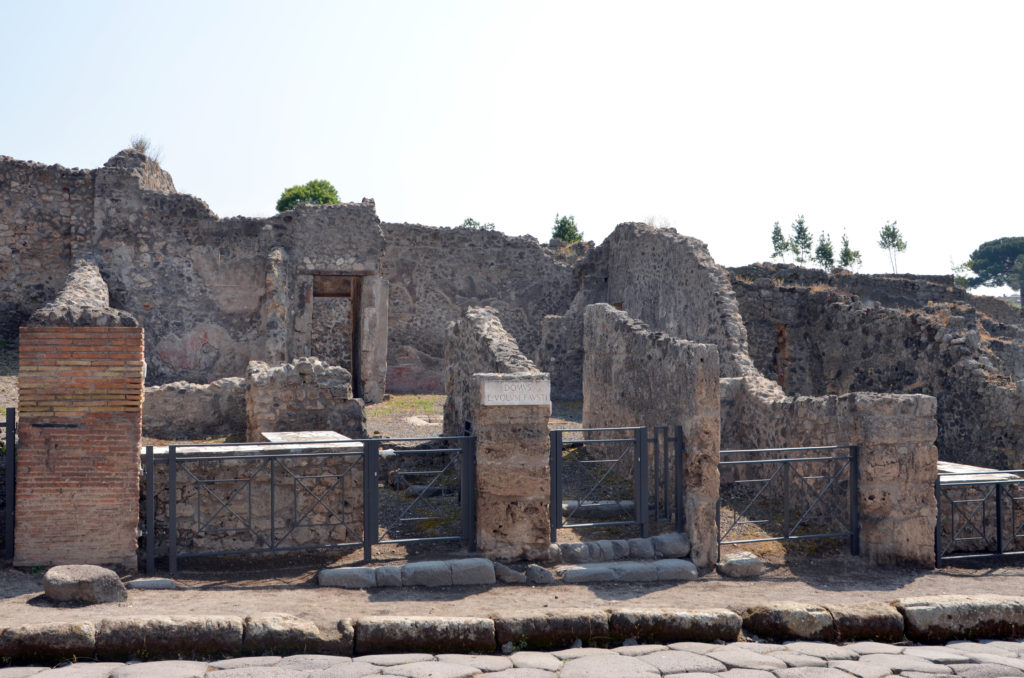 you could not forget the history that was now fresh in my mind.  Pompeii was plagued by sexual sin.  Brothels lined the streets…I mean LINED the streets…. Each one had a sign above the door that displayed what "service" was available.  Prostitutes were readily available at every corner.  Male genitals were signs of worship and souvenir stands had options of every size and finish…gold, bronze, silver.  It was just gross.  When we first entered Pompeii they had an exhibit that showed the ashen bodies that were pulled from the aftermath and this one brought tears to our eyes…  a person who took their last breath in a posture of prayer.  There were others with women trying to cover their children and still others of children alone. devastating.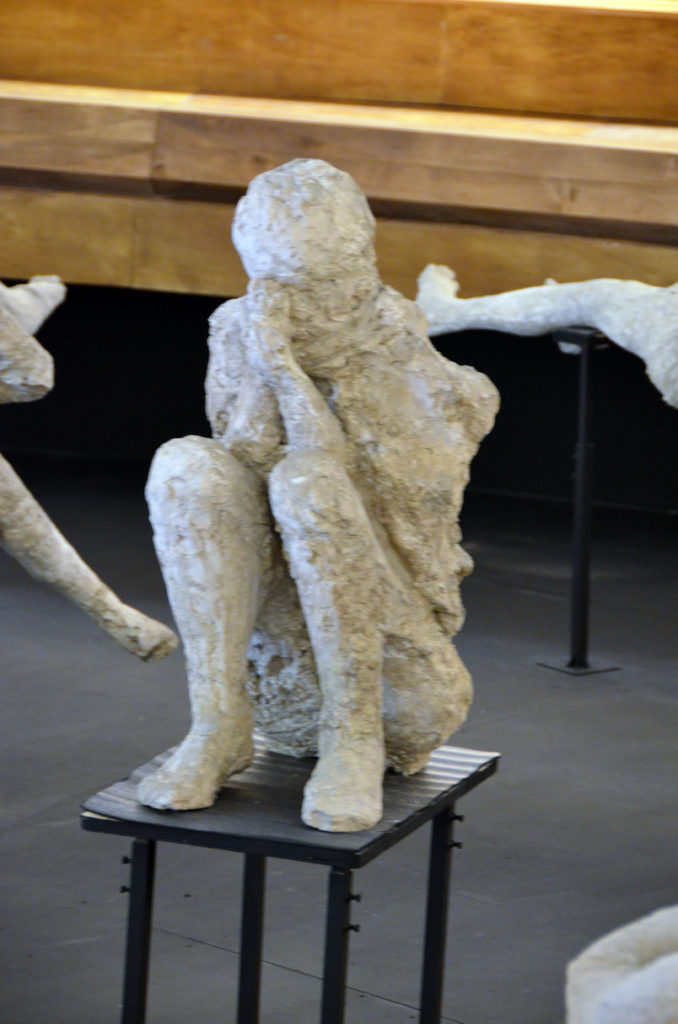 From Pompeii we boarded our bus for the most anticipated part of my time in Italy.  The place I have seen over and over again in movies and always wanted to go….  I can't believe it was finally happening…  Amalfi Coast, here I come.  The road was an endless series of twists and turns hugging the sides of cliffs. I had my face pressed to the window… not even wanting to blink.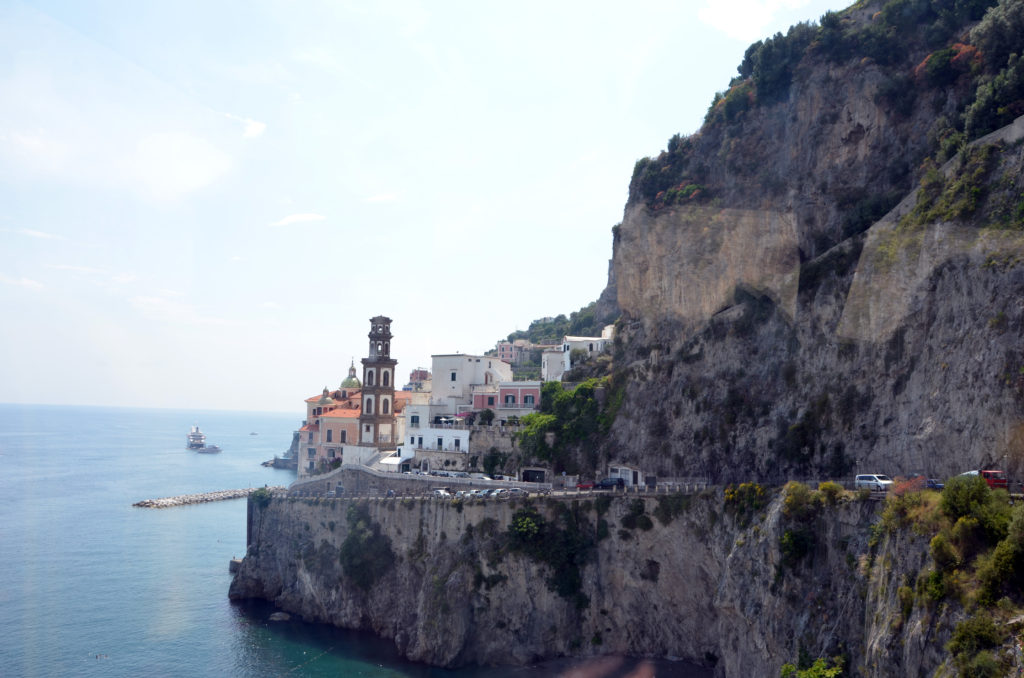 As far as you can see, small towns cover mountain sides, nestled on edges of cliffs in a rainbow of colors.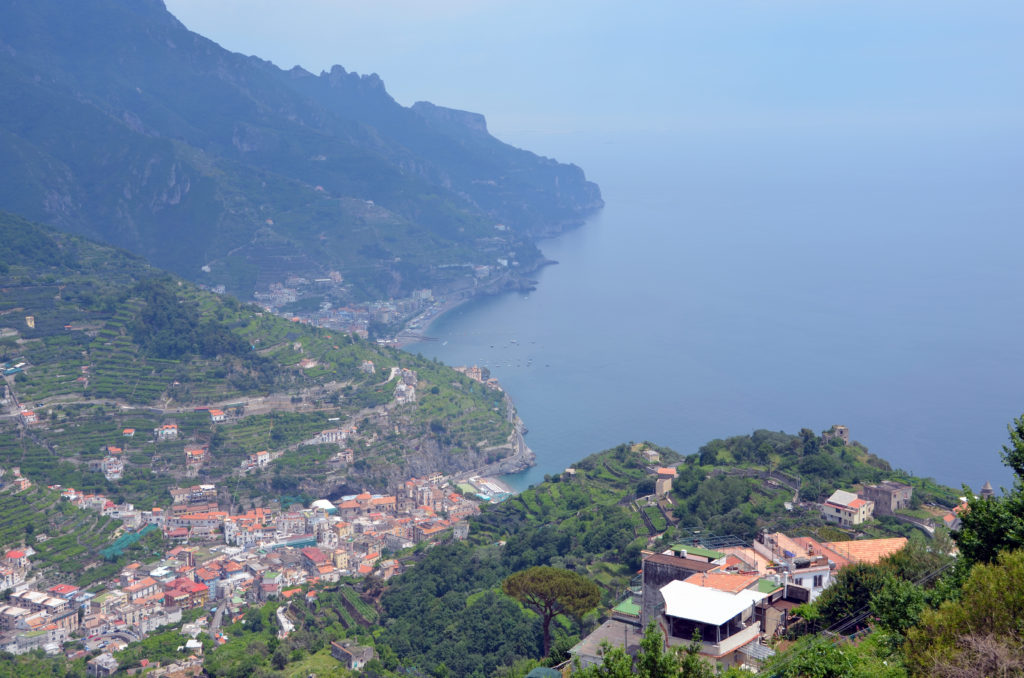 The mountains are so big and lush that these villages look like ant hills.  It goes on and on and on. Each one more beautiful than the next.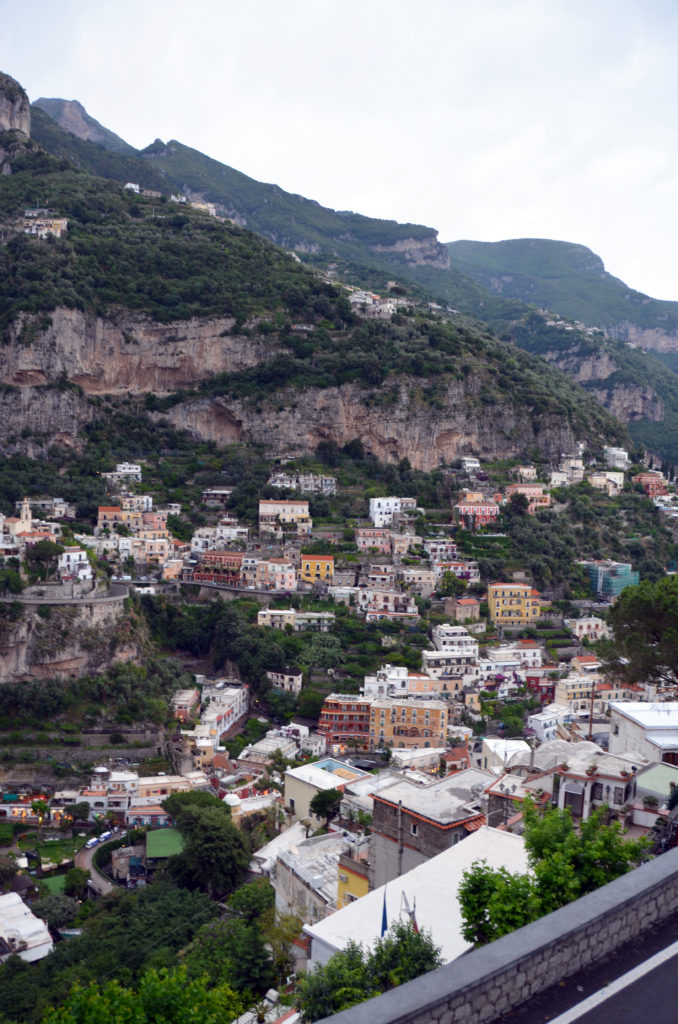 It is completely surreal and I am not sure I will ever see anything more beautiful than this…seriously.  On the way we stop in this tiny little mountain village, called Guardiagrele, where families gather in the streets, friends chatter over cappuccino, sweet little stores welcome us but we must shop quickly because everything closes from 1-4.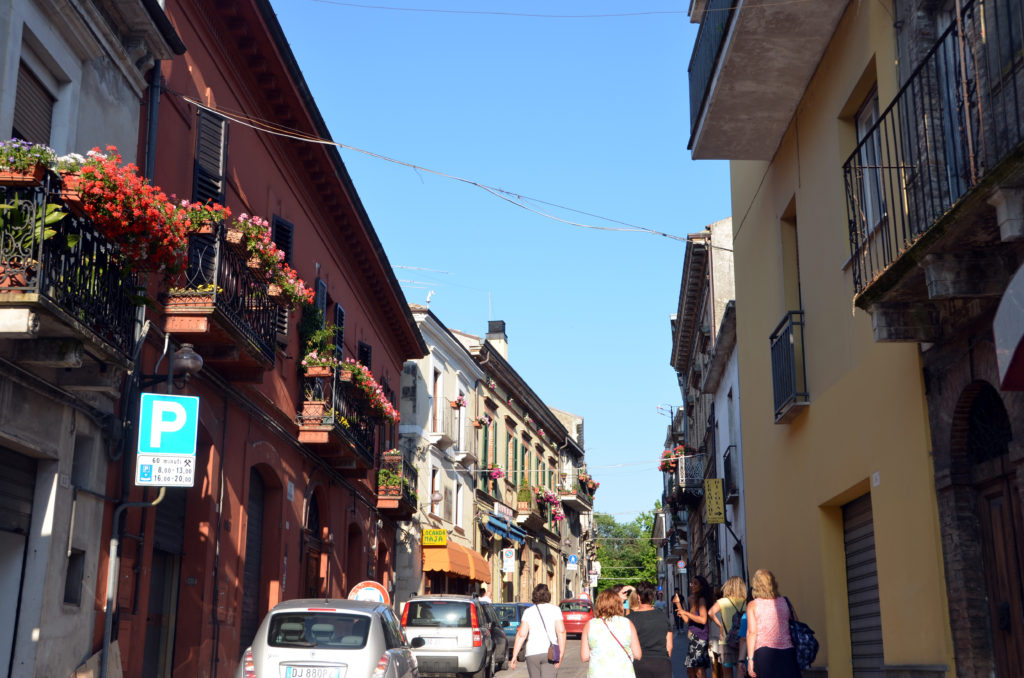 Families still gather every afternoon for a big meal and rest before they finish work for the day.  We also learned that the average age a child moves out of the family home is 35…. Yes, I said 35.  Can you imagine what the U.S. would look like if we HAD TO go home from 1-4.  If family time and rest was valued so much that everything closed to provide for that.  Imagine if more and more families had multiple generations living under one roof.  I think our country would be a better place.  These people know how to slow down.  They have their priorities.  Faith and family first.  This town was a treasure… but Amalfi was still to come.
The pictures don't do it justice, but I can't find the words to describe what it was like to see this first hand….
As we arrived in to Amalfi I was giddy and I seriously had to pinch myself…multiple times…it was like being in a movie set.  I had experienced that once before when I went to China a few years back but this was so different and even more so surreal.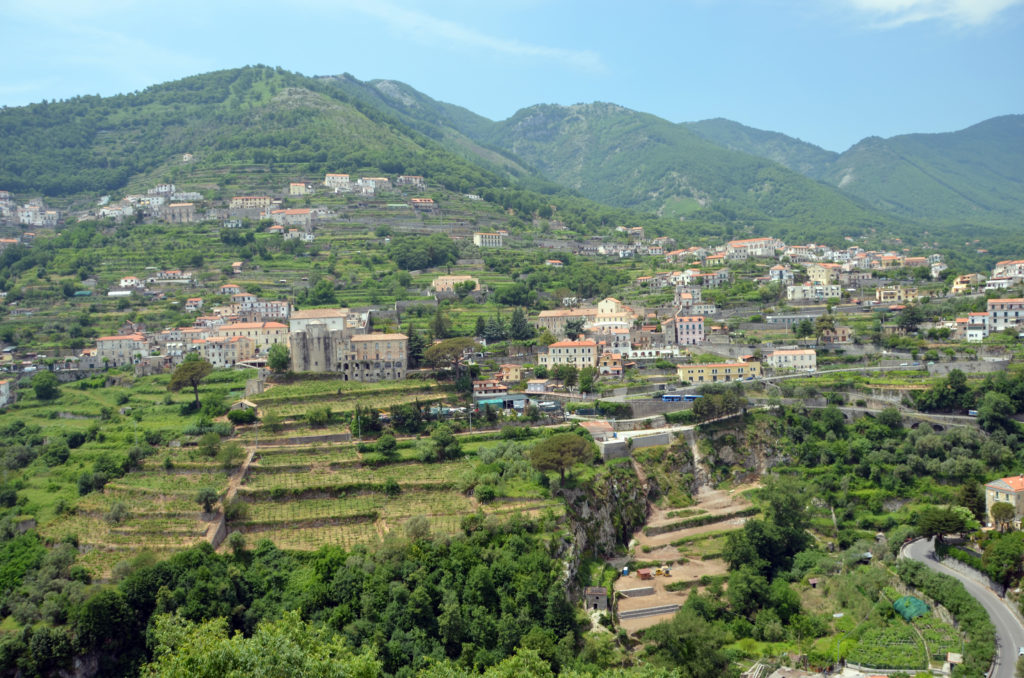 We spent time shopping and wandering (do they ever really give you enough time for this, ladies?).  At last it was time for our journey down the side of the cliff… winding steep paths, vines growing on sides of buildings, flower boxes in the windows bursting  with color, laundry hanging out to dry, stair cases that led to hidden places…it was a maze of treasures during this 30 minute descent  and at the bottom our toes met the Mediterranean Sea and our taste buds savored a delectable dinner aside the sea…. Oh I can't believe I am really here.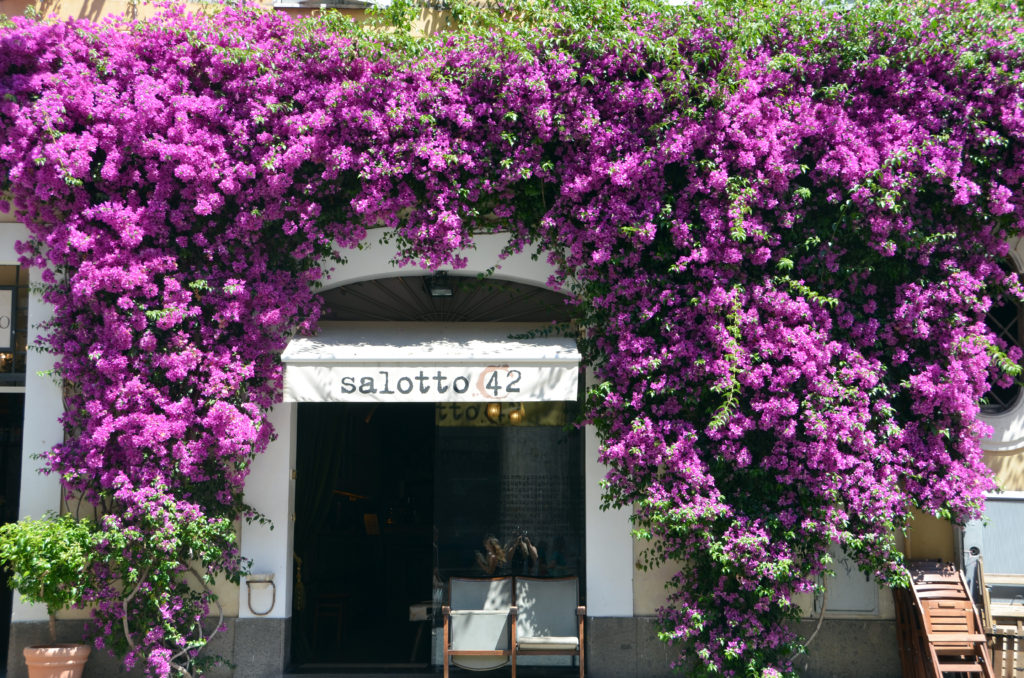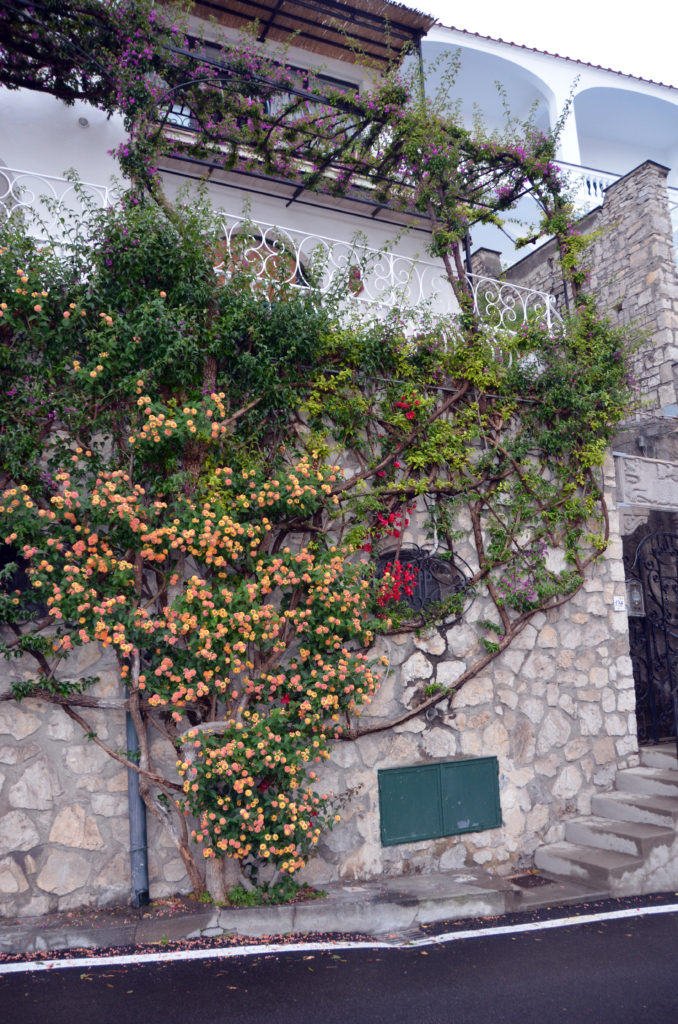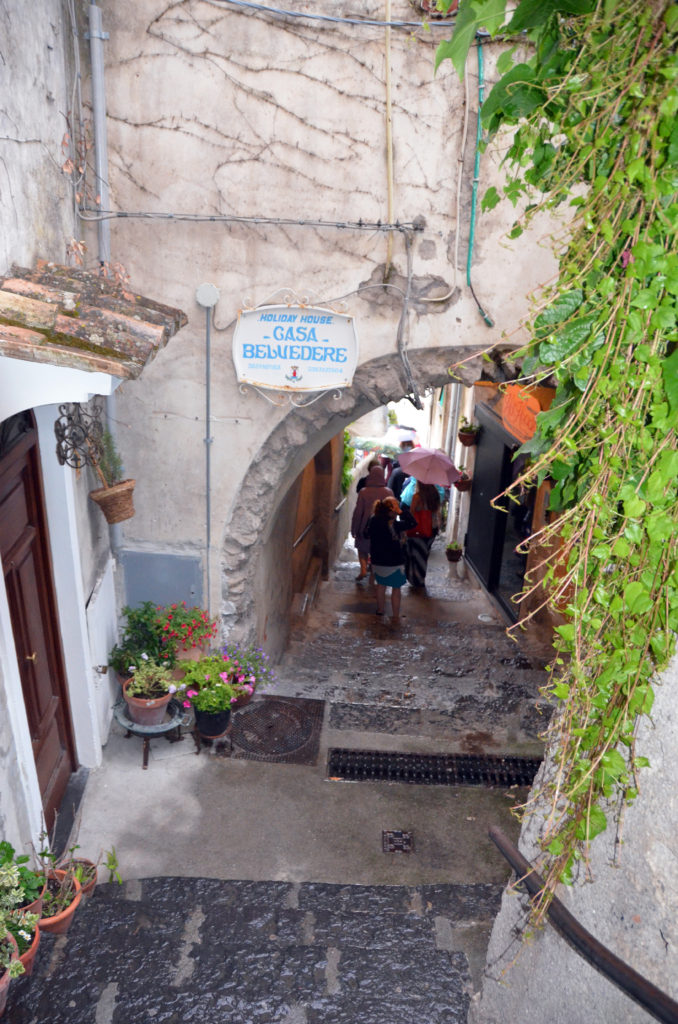 Enchanted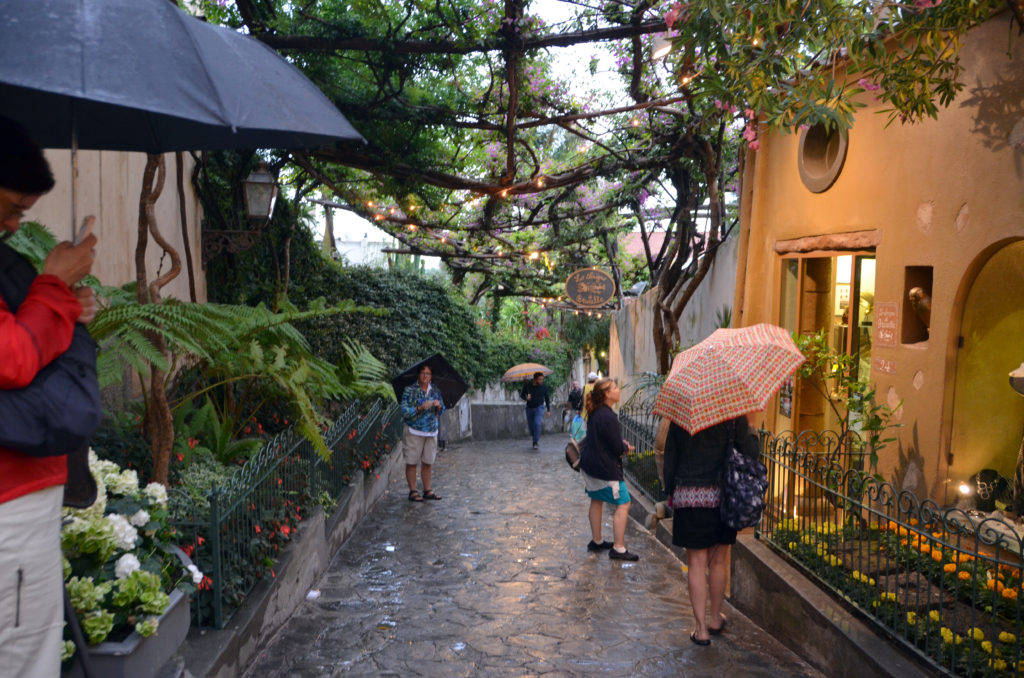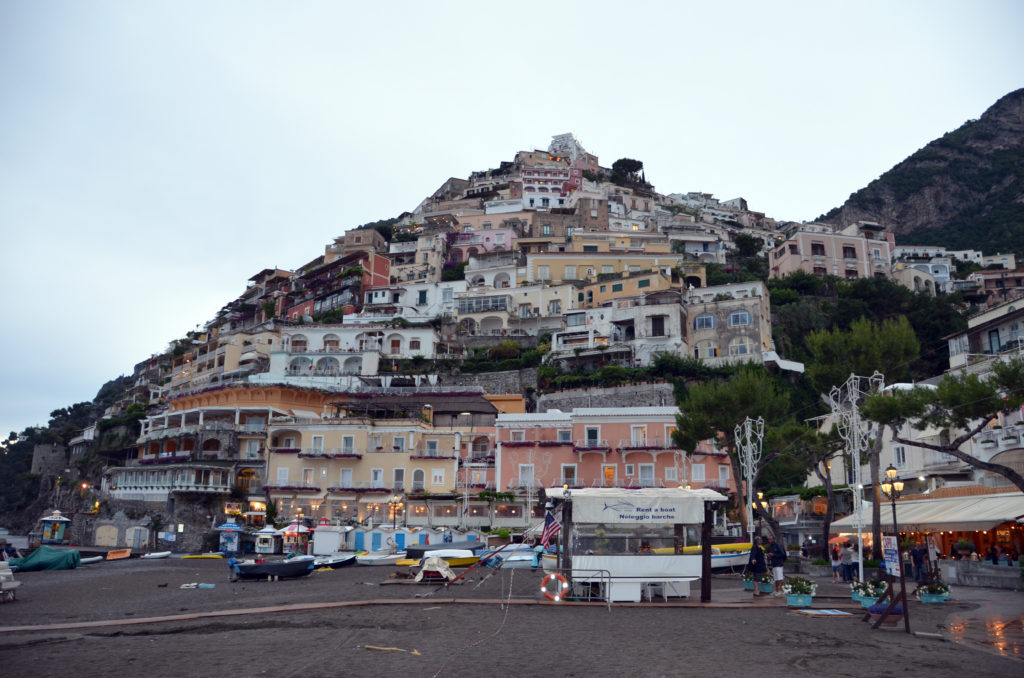 It was a LATE night arrival back in Francavilla… and the time to depart Italy was getting too close… way too close…  I didn't want to leave…  but I was highly anticipating our last stop…..  Venice.  But let's start by mentioning that we had to be up by 1:30AM… fully packed for the U.S. and standing waiting for the bus by 2am.  Can you say OUCH???  IT.WAS.BRUTAL…  painful.  We took the bus to the train station where we all piled in and searched to find a comfortable position in the hopes of catching some shut eye… NOT… squeaking train brakes…people getting on and off at stops climbing over you… not being able to let go of your bags (lots of thieves!!!) and let's not fail to mention how unbelievable dirty the trains are… I didn't want my head to touch the upholstery… yes, I am a germ-a-phobic!!! Thankfully I had my arsenal of essential oils with me.   I couldn't get off that train fast enough…  and as we approached the town of Venice it was magical…simply magical.
I knew it was a series of canals and I knew what the boats looked like with the dude in the striped shirt pushing the boat through the water, but when you are standing there it is seriously magical.  We dropped our stuff off at the hostel (yes, another one!) and left to explore.  Going on the Gondola was incredible…  I felt like a movie star.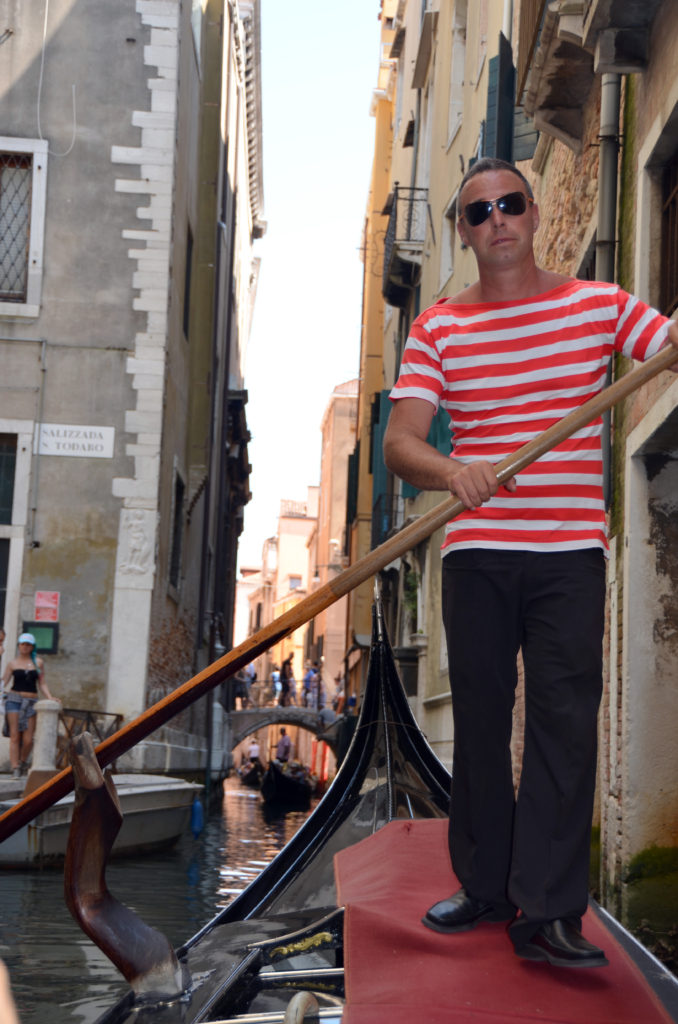 The canals are so narrow and it's quite amazing how they maneuver these boats around… but what is even more amazing is the architecture.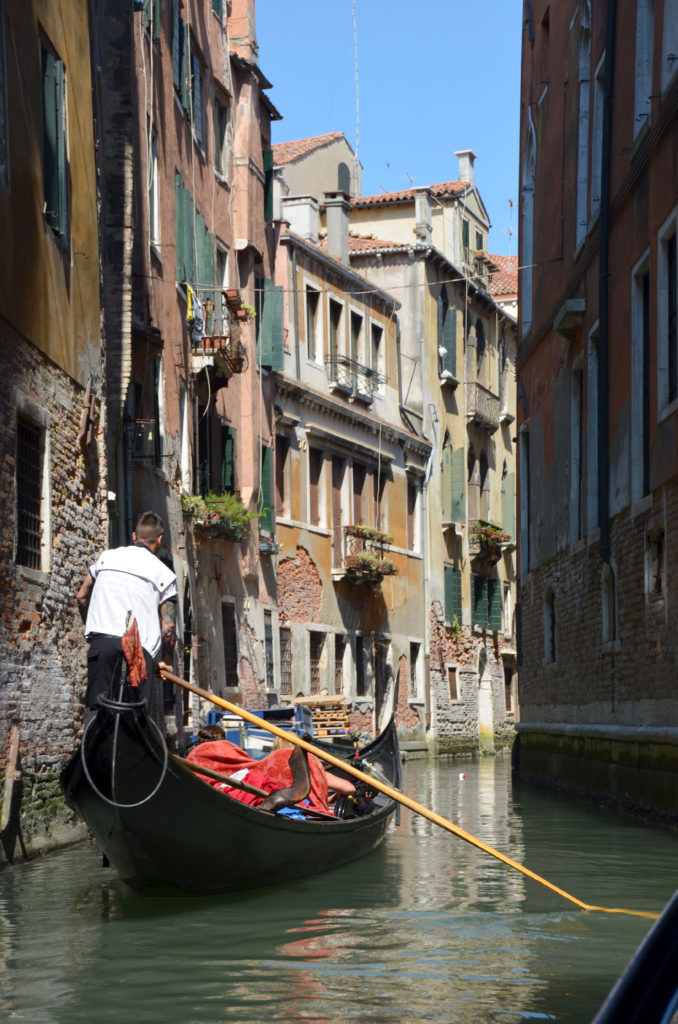 It's beautiful and precious and spectacular all at once.. you can't soak it all in…it's too much…too…too…much… the stores were full of amazing finds… Venice was a treasure chest….  Oh… why did we only get 1 day in Venice???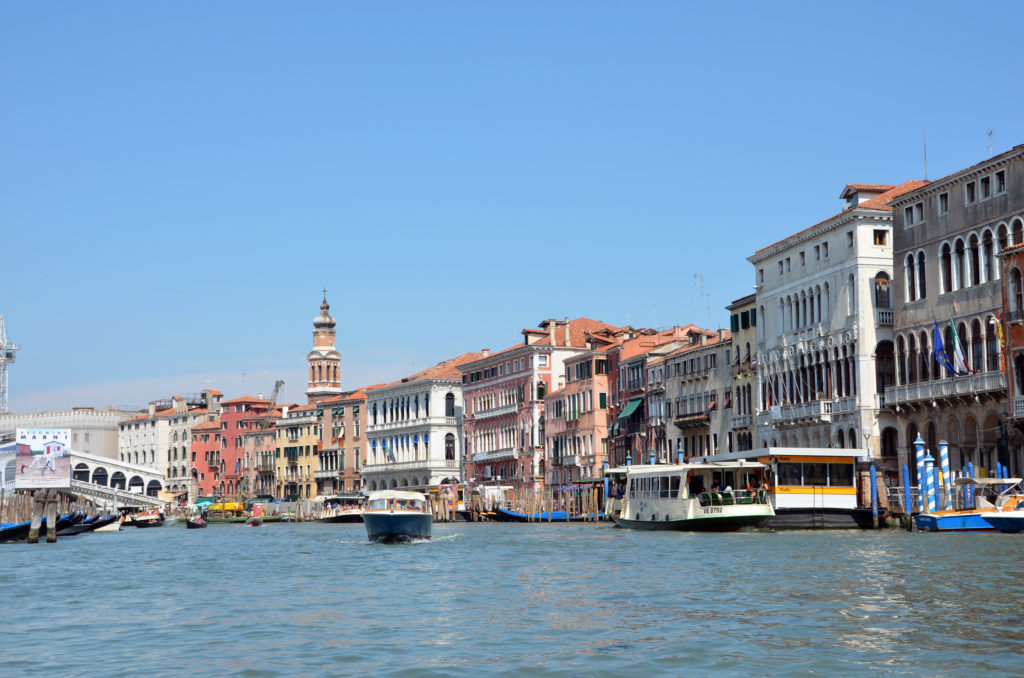 This time in Italy was much too short…  I long to return… I am so blessed and thankful I got to go… but I long to return…
Let me leave you with one simple word.
Pastries.
Multiple times per day.  Hallelujah and amen.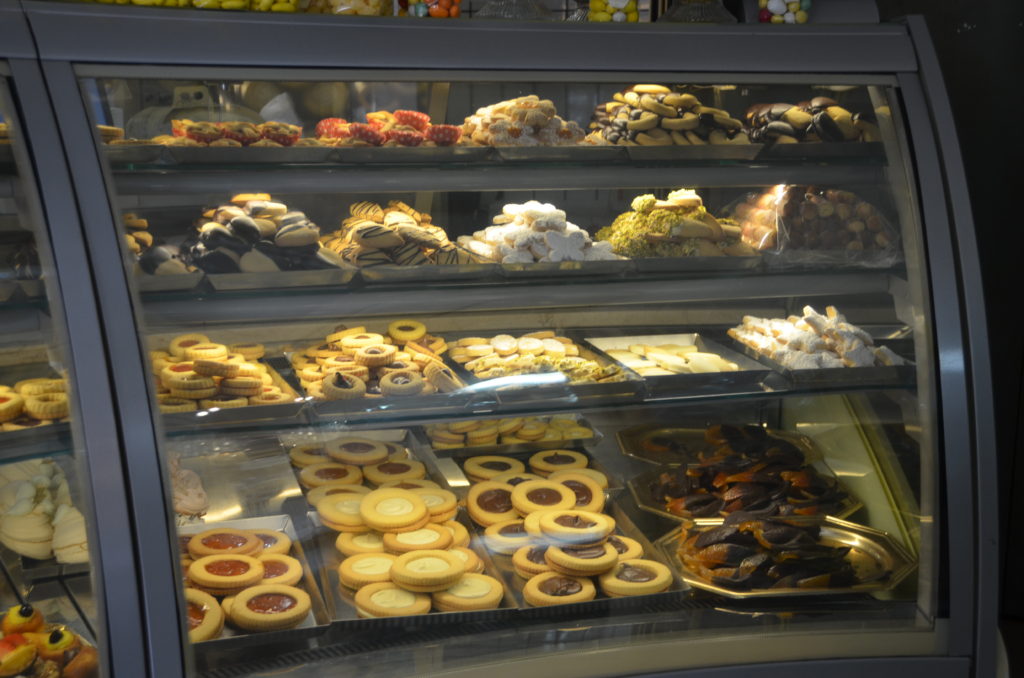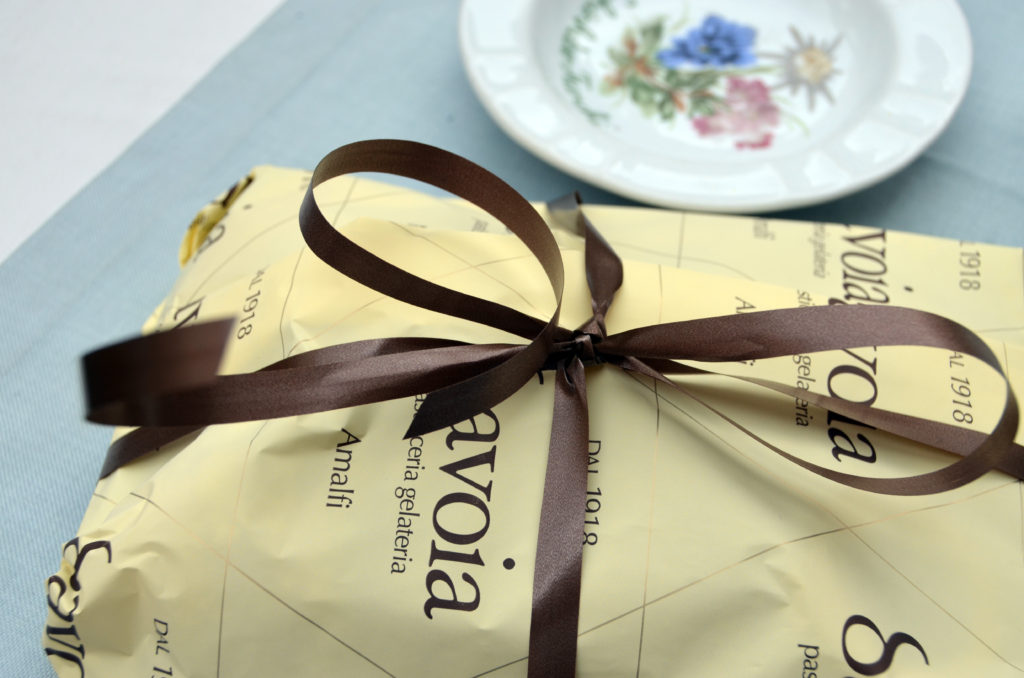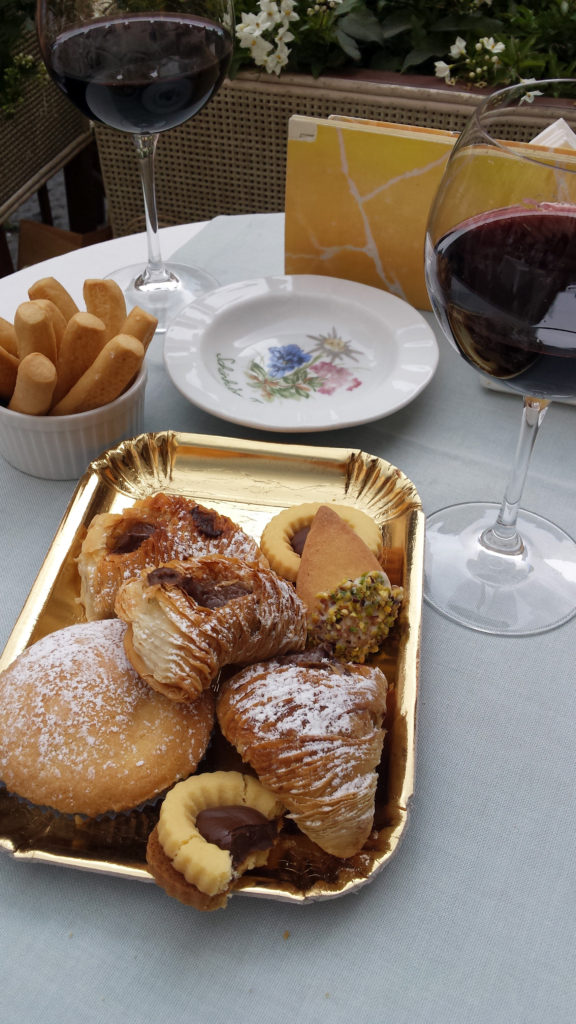 There are SO.MANY.MORE.DETAILS…stories upon stories.  I could not possibly touch on it all in this one post.  The new relationships formed where ordained by God and they deserve their own special place…at a later time.
sorry….one more thing… how do you think my noodle crazy boy felt when this box arrived a few weeks after mom?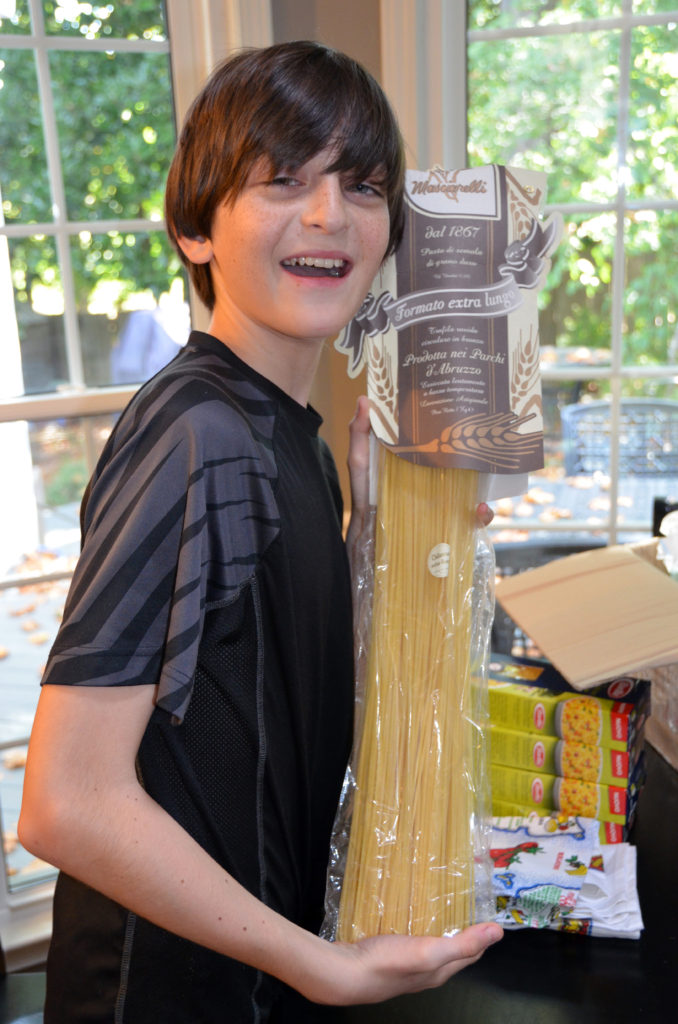 Is there a place your hearts long to go?