i'll. never. get. a. dog…ever.
if i said it once, i've said it 100 times for at.least.10.years.
fast forward to 3 weeks before christmas, 2010.  the year i.ate.those.words…matter of fact…i.choked.on.them.and yes, I still have friends that love to remind me of that over and over and over again!
it's a classic story…little boy. big blue eyes. christmas list…lego's…PUPPY.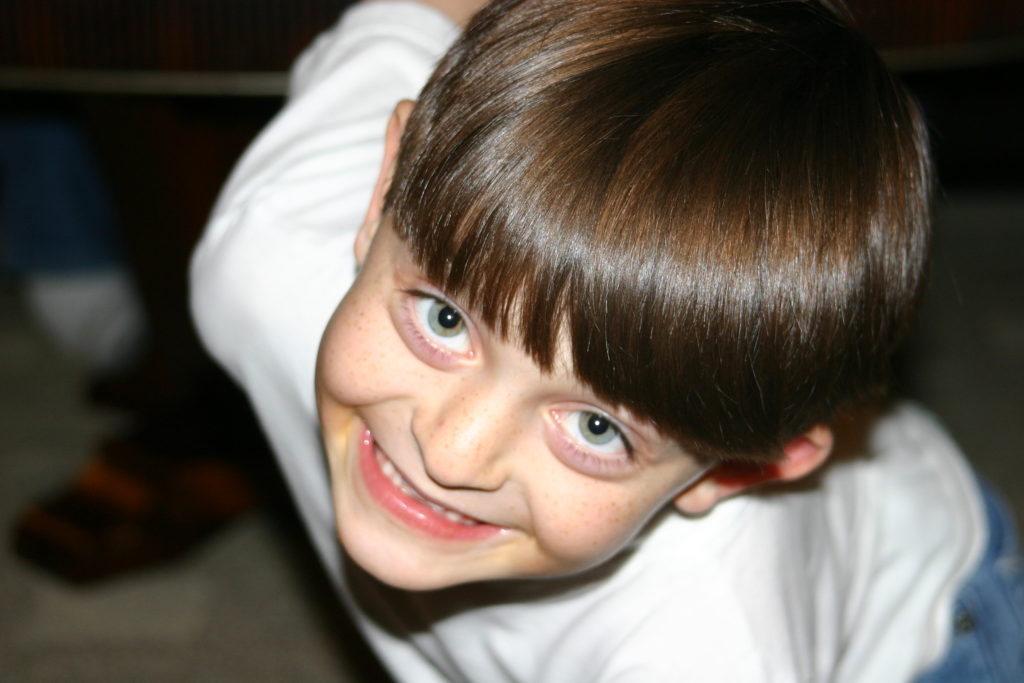 as hubby and i read over this list we both said to each other.  "never".  "we are never getting a dog".  i knew no one would help take care of it.  it would be all me.  no thank you. move along.  we've said it for years.  no.is.no.forever.
it's now 2 weeks before christmas and we are going for the annual adventure to see santa claus.  on the way (2 miles from home) little boy is frantically erasing something off the list before we arrive.  we go in. one by one our kids visit with santa with a glimmer in their eyes as they share their wish list.  later that evening we chat with little boy and ask him what he crossed off his list.  the big.blue.eyes stare up at us…lip starts to quiver and he says, "the puppy…because santa would never bring me a puppy"…he melts in to our arms…crushed.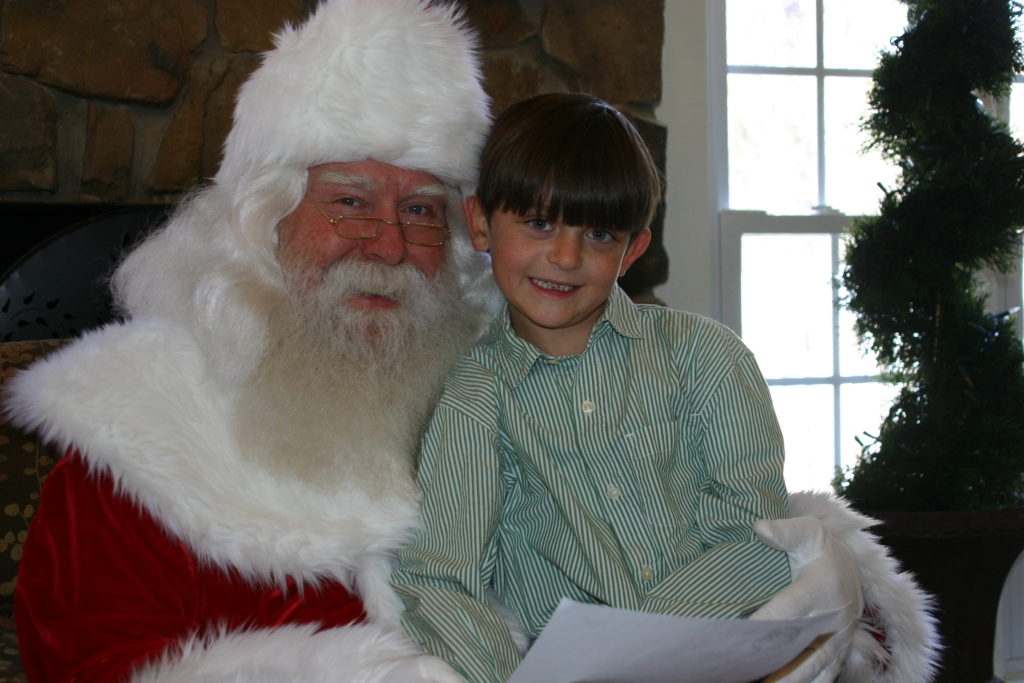 insert stabbing pain in heart. not just one stab, but multiple stabs.
what had we been depriving our kids of?  i had a dog growing up. for 14 years she was my faithful companion. 25 years later i still get choked up over that dog. the loss was crushing when we had to let her go.
let's review all those reasons why i never wanted a dog
they cost a lot of $$$
they require training-everyone on board
walks- and it gets to be 100 degrees here
potty training
picking up dog poop
cleaning up accidents and throw up
trips to the vet
bathing or trips to the groomers
nail trimming
oral care
they shed
NO ONE else will help take care of it
did i mention they cost a lot of $$$
and the biggest reason… they don't live forever and the loss is crushing.
this list, that heart crushing memory from my childhood (along with knowing that no one else was going to help with this furry 4-legged creature) was enough to keep us saying no. until today…until those big blue eyes and the erased dream on the christmas list….then it became a consideration but with the hopes that we could hold our ground and maybe get something easier and cheaper like a hamster or more hermit crabs…
the next day we finish church.  we have nothing to eat at home so i tell hubby and kids to wait in the car while i go in to the grocery store to grab hotdogs. just hotdogs. quick.cheap.meal.  they notice the "adoptions" sign at the pet store next to the grocery store and say they are just going to 'run in' for 10 minutes so i say "ok" and that i will meet them in there in a few minutes.  we had a christmas party to go to and my plans for the afternoon were jam packed.  10 minutes later i walk in to the store and this little creature was in their arms and the 4 of them just looked at me with expressions on their face that i can't even describe. they were holding what could possibly be the cutest puppy on the planet. the.cutest.puppy….love.at.first.sight.   stay strong mama. hubby, why are you turning on me? we were both saying no…no way…never. and here you stand…on their side….YOU TRADER!
we stayed in that pet store for 3 hours.  yes…. 180 minutes holding this dog.  hubby and i exchanged words via lip reading while young ones giggled while this furry creature licked them and made cute sounds… hallelujah… we were both still on the same page.  the lip reading clearly exchanged from both of us was "no… we are not going home with this dog"… but then the question arose. "what are we going to do"… we've just stood here for 3 hours and there are 3 kids that are nearly in tears from the joy they are feeling.
we did what any.good.strong.boundary laying parent would do.
we.crumbled.under.pressure.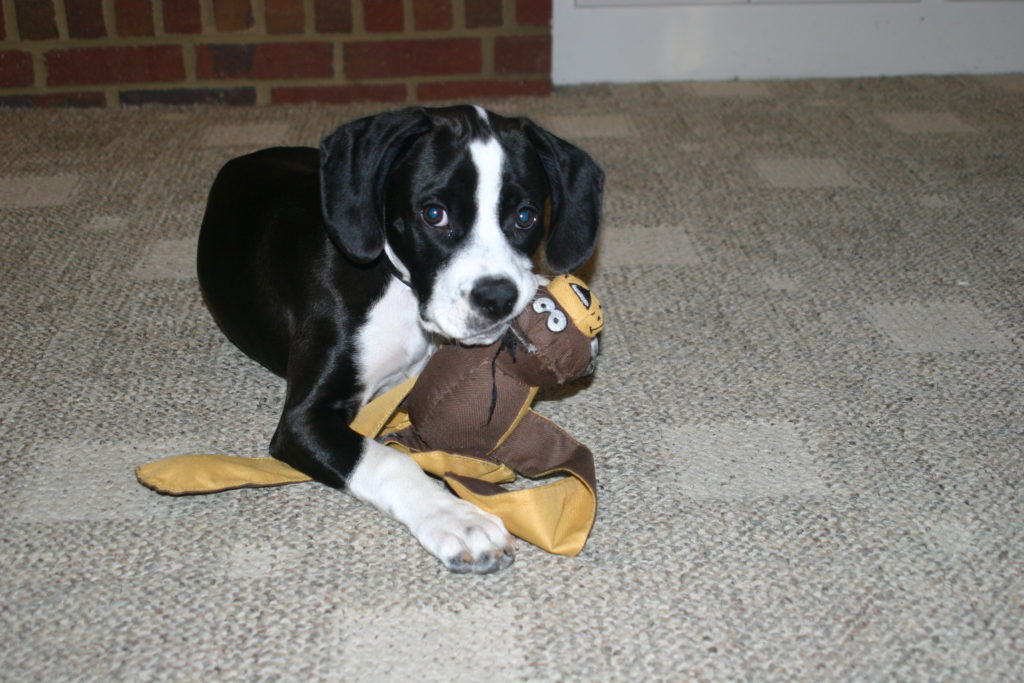 we grabbed a shopping cart and began to fill it up.  we.had.nothing.  collar, leash, bowls, food mat, crate, bed, blanket, shampoo, treats, flea and tick stuff, toys, more toys. $$$$$  suddenly this "free rescue dog" had just cost us over $400. we finished up the paperwork and headed home. 1 hour before the party we were leaving for.  we looked at each other and said, 'what the hell were we thinking… what did we just do'?… .what we did was just give three kids the most magical moment of their lives so far….now what?  Well… put it in the crate and head to the Christmas party…we'll figure the rest out later.
What we figured out…within 5 days was that something was wrong with the dog.  I called hubby.  "the dog is making weird breathing sounds".  Hubby says, "he's fine…it's a dog". I say he isn't fine and watch him closely.  The next day his breathing seemed more labored….and it's getting late.  i insist hubby takes dog to the vet…. Oh yes… it is "after hours" which means the emergency vet.  Does anyone hear the sound of money going down the toilet? To the tune of $800 for a one night stay!!!! Hubby takes cute little bundle of fur across town and within an hour calls to say, "he has pneumonia".  He then says it will cost about $2000 to try to save him, it's a 50/50 shot and that we can PUT.HIM.DOWN (hubby agrees with the ER vet that this is a great option)…  excuse me?  We just put the dogs tiny paw print on an ornament and hung it on the Christmas tree.  No way. No how. No sir.we.will.not.put.the.dog.down.
Didn't I say I didn't want a dog?  This was my way out…free and clear…we 'could' put the dog down… but the problem is, in the 5 days we have had this dog I have fallen nose over wagging tale in love with him and I was a puddle on the floor at the thought of our kids losing their first dog less than a week after we got him… 1 week before Christmas.  I pictured taking that paw print ornament out of the box to put on the tree each year and having an emotional breakdown.  No way.no how.
Skipper spends the night in an ICU unit, receiving oxygen, steroids, etc.  his fever was high, his breathing was labored.
The ER vet closes at 8am so we picked him up and brought him to our regular vet who happens to be a dear friend of ours.  I have little boy with big blue eyes with me.  We walk in and hand over our weak and precious puppy.  He spends the day on an IV, antibiotics, etc.  slow improvement.  Vet goes home to his wife that night (one of my BFF's) and tells her what is going on and how little boy with big blue eyes looked up at him.  He says to wife… "we must save the dog".  At this point precious puppy is on his 2nd night of accommodations at the $800/night swanky ER…followed by a second day spent at the vet.  That next night he was able to come sleep at home wearing the Cone of Shame and the third day he just spent the day at the regular vet.  Before we knew it he was back to being a rambunctious and precious little bundle of fur peeing and pooping on our carpet, chewing socks and all those other mischievous things puppies do.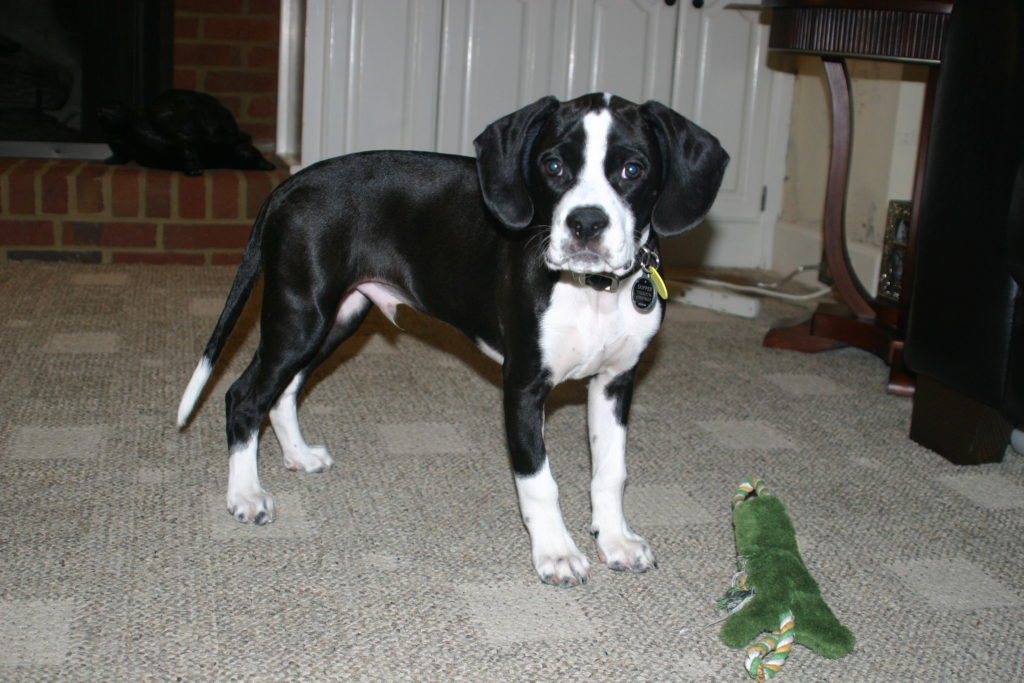 The next stop for any good dog owner is to invest in puppy training so you don't end up with some out of control ball of fur that deters anyone from wanting to come visit.  So this is where he fails puppy training 101 but they "allow" him to move up to Intermediate level to which they allow him to graduate even though he didn't successfully complete anything they taught him.  Another $500 down the drain.
We then hire another trainer to come to the house that wants to approach everything different than what original trainer did.  $1200.  Down the drain.
One last ditch effort…this guy is supposed to be the best… and the darn dog listens to this guy the.first.time…but…never.listens.to.us.  $500. Down the drain.
Next stop is doggy daycare…get this little guy socializing with something besides the humans to which he thinks he is one.  Day 1 will not detach from humans at day care and lots of barking.  Day 2 will not detach from humans at day care and lots of barking.  Day 3 will not detach from humans at daycare and A LOT OF BARKING.  End of day 3 when they bring our little furry friend out to us, they pull hubby aside and nicely tell him that due to people in the surrounding neighborhood calling in a noise complaint (um… yep… it was from our dogs constant barking)…..  "we'll have to ask you not to bring Skipper back here".  yep.  He.just.got.kicked.out.of.doggy.day.care.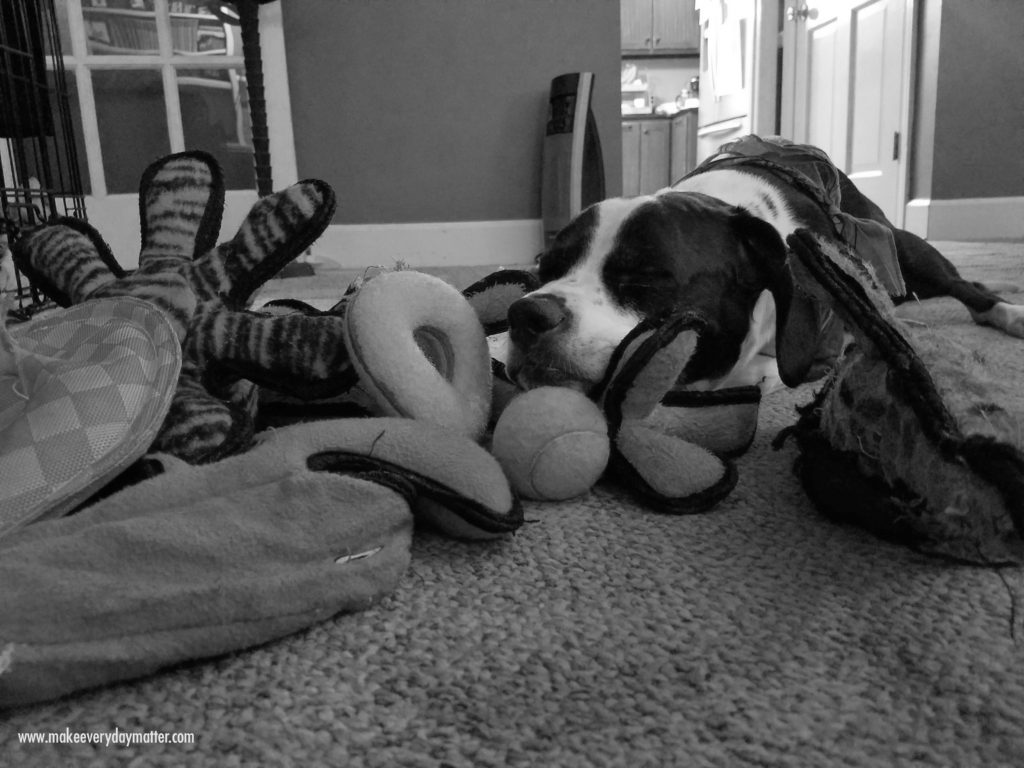 So we spend the next 2.5 years just letting him be the crazy, untrainable, bundle of fur… part dear, part rabbit, part dog, certainly has Multiple Personality Disorder, whacko, squirrel chasing, electric fence breaking, hole digging, grass eating, constantly vomiting dog………….. he was a big lovable, pulling my hair out over him, mess!
He's now about 4 years old hubby says, "my brothers dogs always have white teeth..you should get Skipper some Milk Bone Dog Biscuits".  Now mind you, we don't do that kind of stuff…pup gets organic treats and wheat free food, within reason, as his tummy is so sensitive (do you want to talk about how much dog vomit I have cleaned up since he binges on grass).  But I appease hubby and go get a box.  He has his first one in the evening…a few hours later tucked in his crate as usual.  Morning dawns and I come downstairs to a sound and smells I can't describe.  I enter the family room and it looks like WWII broke out.  Diarrhea and vomit.everywhere. it shot 2 feet out in every direction from the crate, on the walls of the crate and family room, on the ceiling of the crate, bedding saturated. Skipper is lethargic and his body is covered in diarrhea and vomit from head.to.tail.  We wipe him down best we can. I carry him to the car. Off we go to the vet.  Severely dehydrated, put on an IV, meds to control the fluids exiting his body, etc.  The.1.single.MilkBone.cost.us.$300.in.vet.bills.  The dog CAN'T HAVE WHEAT!  Happy, hubby?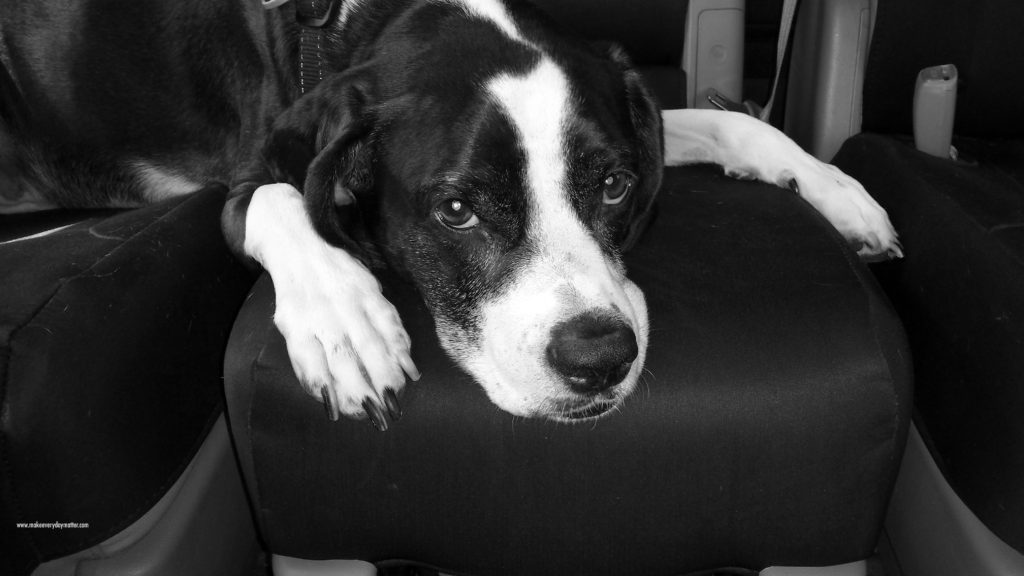 Of course then I am like, OK, he is beyond intolerant to wheat and I have him on wheat free food for a bit now which has helped but hasn't solved the problem with the tummy.  So, me forgetting that just cause the food was wheat free, doesn't mean it is gluten free so I check the bag and of course it still has Barley and Rye… darn it…  how did I miss all that… I am crazy about reading labels on everything we eat but I really slacked off with the dog.  Ok… so we get him switched to grain free food…hubby is everything but thrilled at cost of said upgrade of food but the dogs grass eating and vomiting cease almost immediately.  So the dog can't have gluten.  Kind of funny and not funny at all……… you see… 4 out of 5 of the humans in our house are gluten intolerant!
Let's get through another few months…. Skipper is happy, not puking, just being crazy Skipper…let's cruise along at this speed for a WHILE, shall we?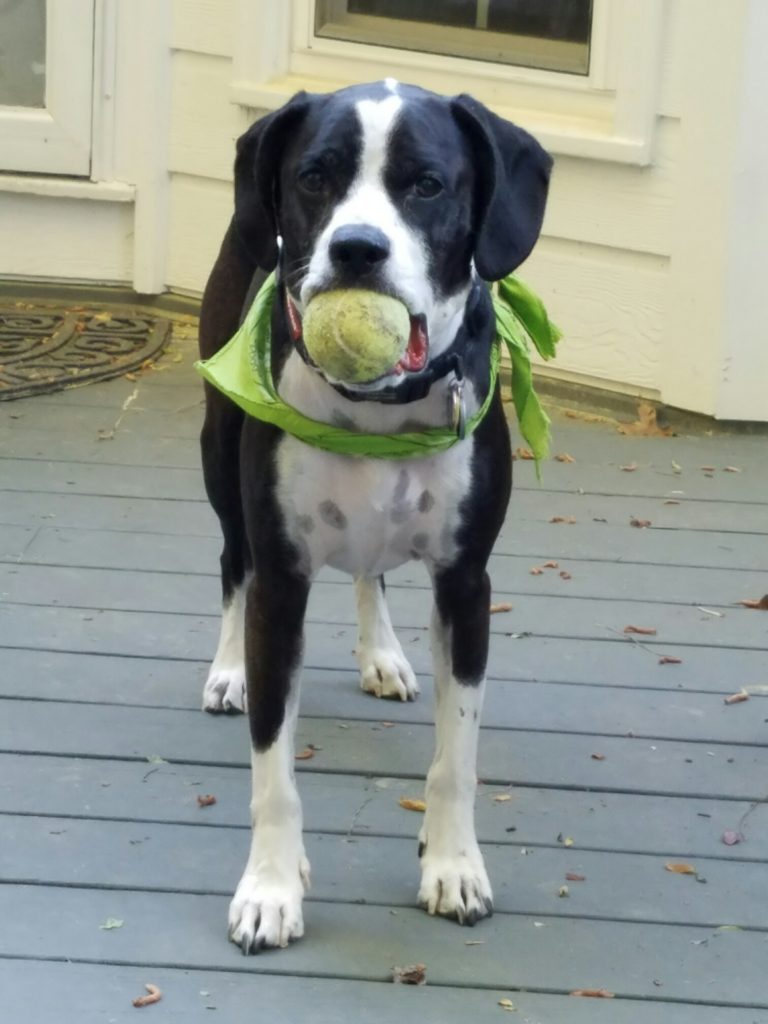 Until………… the DREADED DAY…  just after Skipper turned 5 years old.  We were a few days away from leaving for a mission trip to Guatemala…and he's suddenly developed some lumps in his throat. I watch him for a day and notice the lumps are more swollen and assume he is coming down with something so I decide to take him in so we can make sure he isn't sick before we leave him with the dog sitter….    We had an appointment with a Vet we don't usually see and they don't seem overly concerned (thankfully) but take Skipper in the back to check him out (he behaves much better away from mom for the Vet).  They take a sample of the fluid and a few minutes later the other vet walks in (my friend's hubby) with a look on his face that wasn't good.  "I am pretty sure Skipper has Lymphoma".  I feel sick to my stomach and like I just had a brick hurled at my chest.
cancer.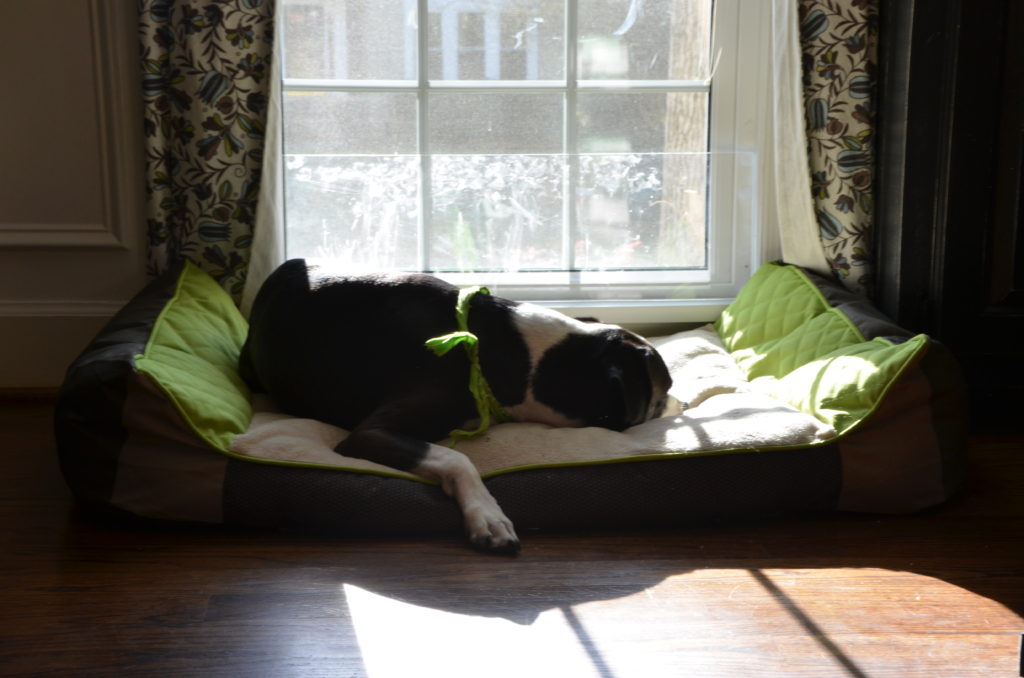 he has cost us over $5000 in 5 years and now he has cancer!  With 48 hours until we are jet set to Guatemala I thank God for Amazon Prime and I go in to research mode and quickly get delivered every type of supplement that could help for the time being and that was doable for the dog sitter.  He was also put on prednisone as there was no way we were shelling out $4000 for chemo.  We return from a week of spiritual bliss only to find out the biopsy was sent out to another lab and came back at being the most aggressive type of Lymphoma…. His lumps hadn't responded at all to the Prednisone, (he's eating like a horse & acting aggressive from it too) and so with that they gave him a month to live…………
a.month.to.live.
Gluten Free, non-gmo, organic, free range, grass fed, no artificial nothing mama has just received the challenge of all challenges. This dog isn't going down next month. Period. I start to beat myself up.  We had him on 'good food'… he gets filtered water…organic treats…fresh organic apples & spinach for snacks….lots of exercise… this doesn't make sense…. OR.DOES.IT.  I'm no doc but I've done enough research and dealt with gluten issues long enough.  grains.are.evil. and dogs really were never meant to eat them. I am certain what the root cause was….and I could kick myself for not putting his tummy issues together with the gluten thing from day one.  March on.
I had just watched an amazing documentary series called The Truth About Cancer.  It's not just good info for cancer patients but about holistic living overall and I had taken pages of notes.  I started to look through, researching what dogs can and can't have and start to seek out a holistic veterinarian.  Now, mind you, I LOVE our vet…love…love…love… it's just that we decided to fight this battle the way we would anything else in this home…a multifaceted approach combining the best of both Western and Holistic modalities….and bottom line.. we could not afford the chemo!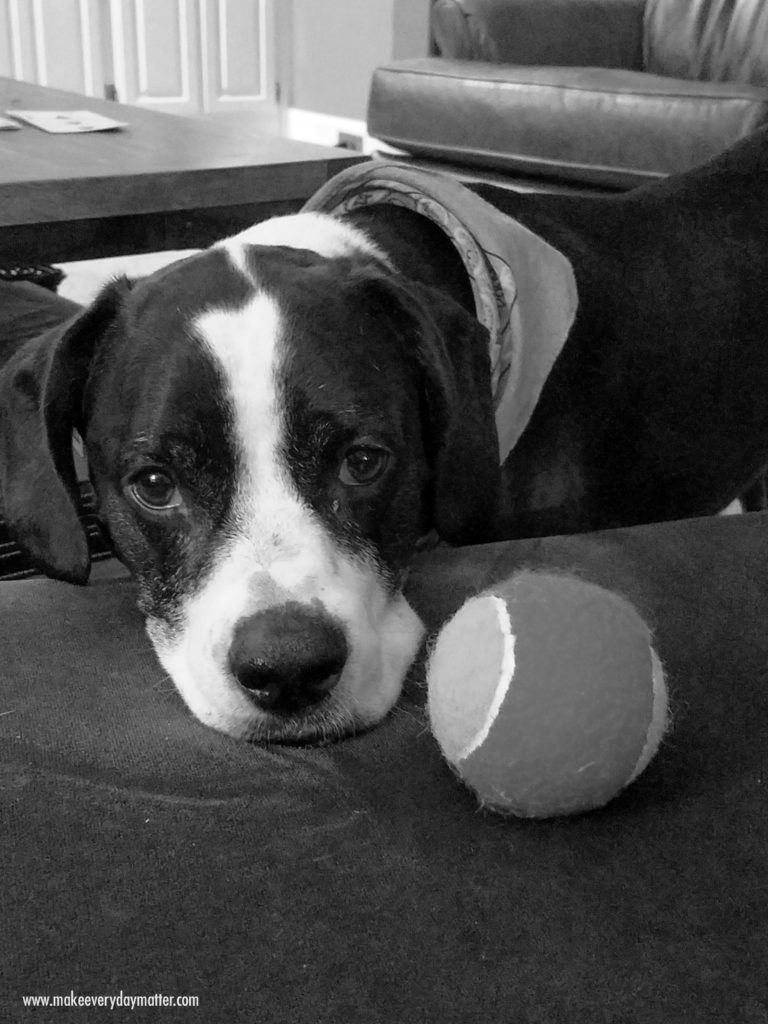 So we bring him in and I immediately love this lady…she is speaking.my.language. She does scans with saliva and fir. We establish other food intolerance's. We talk raw.food.diet. he gets some crazy massage. some spinal thing. Oh and she has these peanut butter treats that make him go bonkers.  So we go home with supplements…lots.of.supplements…and holistic drops to help bring his body back in to balance, we have a list of essential oils (many of which I had already started).  You see, we have got to detox his body and strengthen his immune system before he could even be strong enough to fight the cancer so we embark on this journey that lasted about 2.5 months.  Now I can add raw.food.doggy.diet to my chef credentials.  Here is an example of some recipe ingredients:  raw grass fed beef, steamed broccoli & kale, diced apples, cow heart, chicken livers, flax, zucchini, ground free range turkey, pureed pumpkin… the dog is now eating healthier than us.  Once the tests determined he was strong enough she started him on Neoplasene… a very potent herb with cancer fighting properties.
We committed to this regimen and month after month went by and he.was.still.with.us. Thank.you.God.  He was a happy, full of energy, eating like a champ, peein', poopin' playing, sleeping puppy as each month passed.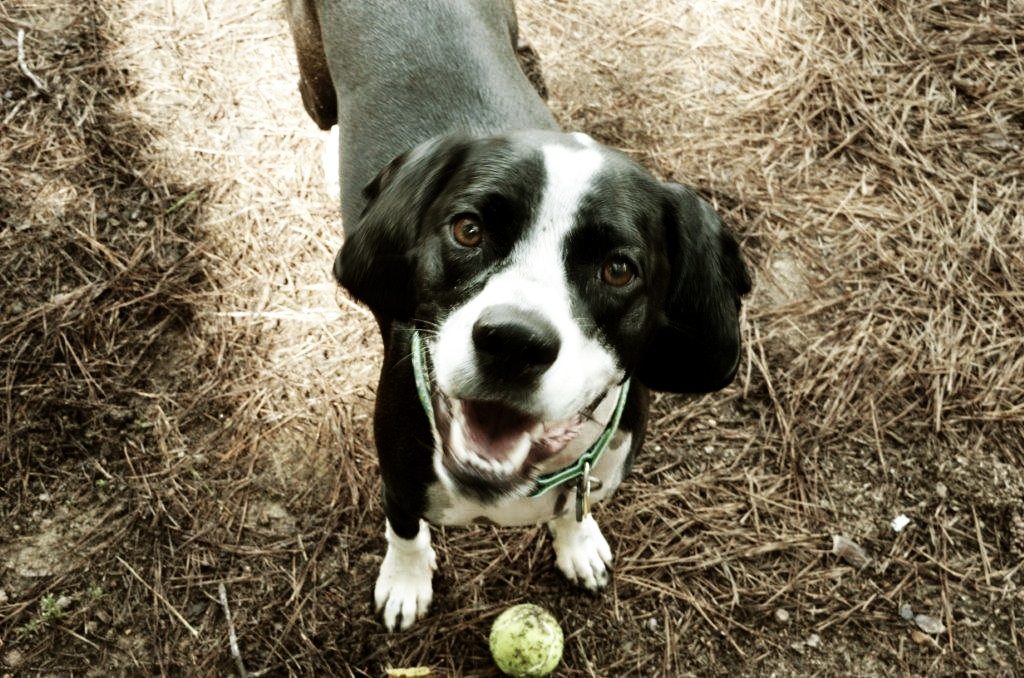 The only problem with him still being with us is that every time I looked in those beautiful eyes of his I would just cry because in my heart I knew that each day we had with him was precious and that he would be gone…far too soon.  And there were so many nights that I went to bed and just cried an ocean of tears in to my pillow… crying my heart out over a puppy I didn't ever want to get.  We knew that even with a full holistic assault that It would take far more resources that we were capable of to save him.
7 months later…while still eating well and pretty darn playful, the lumps in his throat were causing issues…we could tell he was uncomfortable… and we knew if we continued on that he would start to suffer.  Each day we kept our sweet boy from here on out would have been selfish.
We each took turns saying our goodbyes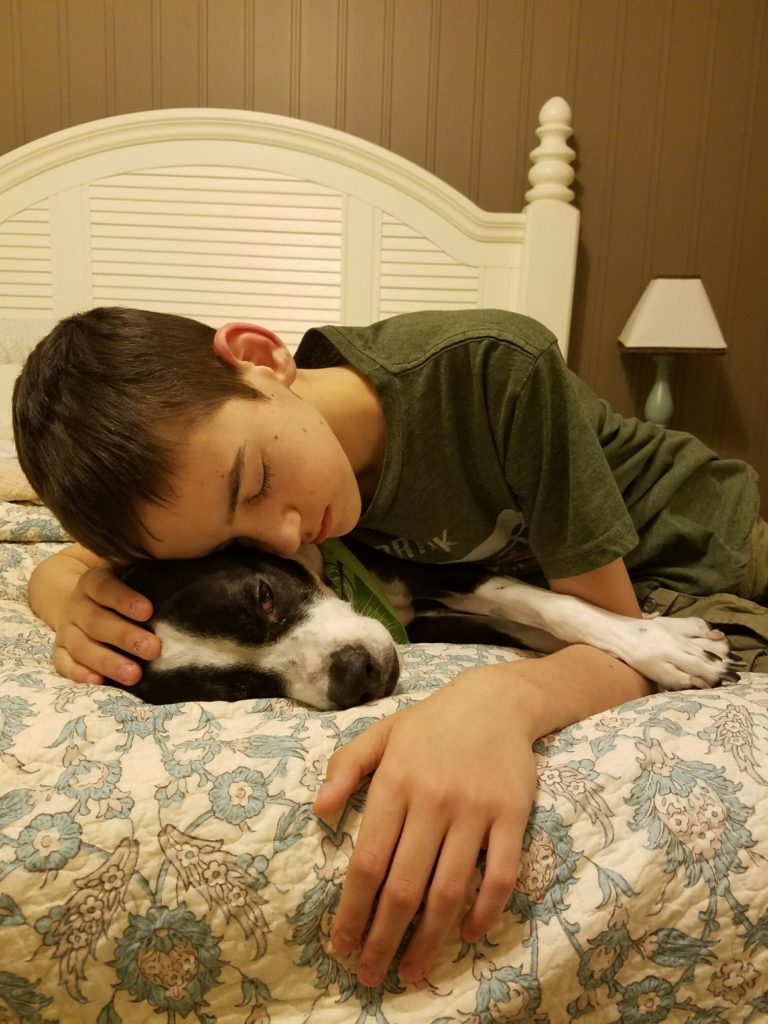 Skipper was sent to doggie heave on May 2nd, 2016.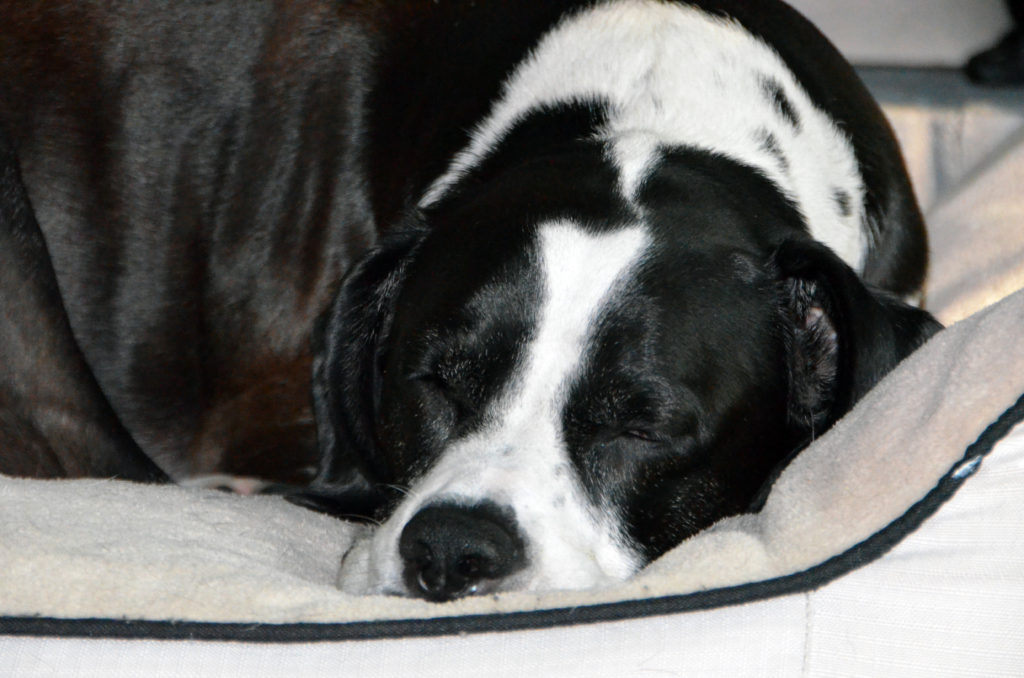 One of the saddest days of my life. You know the pain…the kind where you can't breathe…the kind where you can't control the tears and gut wrenching sobbing…the kind that feels like you've just had a brick hurled at your chest.
This dog I never wanted to own left a profound mark on my heart.  He was my shadow, literally everywhere I went I tripped over him.  He licked wounds and tears (I am convinced he got to many of our tears before God did so our jars in heaven are probably a bit empty).  He comforted.  He loved us unconditionally as we did him.  He made us laugh and made us want to pull our hair out.  He was the best dog ever!!!!!!!!!!!!!!!!!!!!!!!!   The only ones at our home that are rejoicing are the squirrels, lizards and chipmunks who are now free to roam our backyard again.    I think in puppy heaven he is friends with them though!
Said little boy who is now ½ grown has already looked up at me (almost tall enough now to look down on me) and already wants another puppy… please son… mama's heart is so broken right now…give me some time.
What furry 4-legged friend stole your heart?